TRACKSIDE – June 2020
As disappointing as this is to Drivers, Fans, Promoters and Track Owners we are still not back racing as we need to continue to follow the COVID-19 guidelines. There have been a few practices for drivers and limited crew based on the guidelines but no fans in the stands. It horrifically sad to all! Every week, when they make the announcements, I keep thinking maybe this week, they will allow restricted access by the fans. Enough that a track could survive and not run at a loss. Drivers and cars are mostly ready! Fans are defintly ready! Management is ready! I just thought, its time to maybe get some normalcy back in the season and hopefully the rest will fall into place. Practice sessions (no fans) have been and are taking place. A lot of changes in race car equipment and changes in drivers moving to a new division. It's probably one of the strongest and most interesting drivers line up in a long time in most divisions.
DRIVERS INFO 2020
One of the biggest surprises and late announcement, was Trevor Collver moving up to the Pro Late Model division this year. Shouldn't be any problem for Trevor to be fast right out of the gate!!
Trevor Collver #1 Pro Late Model
"This is a 2015 McColl Racing Straight Rail Chassis. Looking forward to making the jump up to the Pro Late Model. I am ready for the challenge. None of this would be possible without the endless support from my family, dedicated crew and sponsors"
Name: Trevor Collver
HOMETOWN: Lucan
OCCUPATION: Electrician
YEARS IN RACING: 14
CURRENT DIVISION: Pro Late Model
RACECAR:
SPONSORS: Inventory Express Lubricants, Carter Trucking, D-K Equipment, Hodgins Custom Service, Sissios Pizza, Wilds Printing, Fix Auto London Northwest, Novus Glass, Minuteman Press London North, Mister Transmission Exeter Road, Nu-Vista Reality Ahmed Waqas, Mark Kennedy Trucking, Outback Tire Shack, G&L Automotive, Goris Rentals, Hallmark Memorial, Dave Collver Auto Care, Melrose Garage, Collver Towing.
Trevor Collver 's new #1 Pro Late Model
Name: Jeff Ferguson
HOMETOWN: Brant County
OCCUPATION: System Administrator
YEARS IN RACING: 13
CURRENT DIVISION: V8 Stock
GOAL FOR 2020: Win my first race
RACECAR: Existing
EXISTING: New Rear Clip & new Built motor by Ralph Book
OWNER: Darryl Ferguson (Father)
SPONSORS: Silentium Group, Adkins Financial, Carstar, Crescent Oil
Jeff Ferguson #23 V8 Stock
Joe Kicks #12 Bone Stock
Name: Joe Kicks
HOMETOWN: London, Ontario
OCCUPATION: Takumi Stamping Supervisor
YEARS IN RACING: 6
CURRENT DIVISION: Bone Stock
GOAL FOR 2020: continue to improve from previous season
RACECAR: 2005 Sunfire built by students at Clarke Road Secondary School
OWNER: Joe Kicks
SPONSORS: Clarke Road S.S., Keeping It Up Groundscare, Baker Auto Wreckers, Waste Connections of Canada, John Zubicks, Disturbing the Pease Customs
Joe Kicks #12 Bone Stock
HOMETOWN: Alvinston
OCCUPATION: Baker @ Tim Hortons Watford
YEARS IN RACING: 1 year Bonestock, I ran a lot of Enduro races many years ago
CURRENT DIVISION: Bonestock
GOAL FOR 2020: Improve my car a lot and run consistently in the top 10 or better. Win at least 1 race (lol)
RACECAR: Same 2003 Cavalier. new body panels
IF EXISTING: replaced worn out parts, k frame, brakes. bearings.
OWNER: Eric Martin
SPONSORS: S & E Personal Creations Alvinston, Dominion Lending Center (Scott Riddel), Ebikes in Strathroy (Jeff Peacock), Attridge Concrete
Nick Masson #48 Bone Stock
HOMETOWN: Ingersoll
OCCUPATION: Machinist
YEARS IN RACING: 1 year
CURRENT DIVISION: Bonestock
GOAL FOR 2020: To complete a full year and build on what I learned from last year
RACECAR: 2004 Pontiac Sunfire.
OWNER: Nick Masson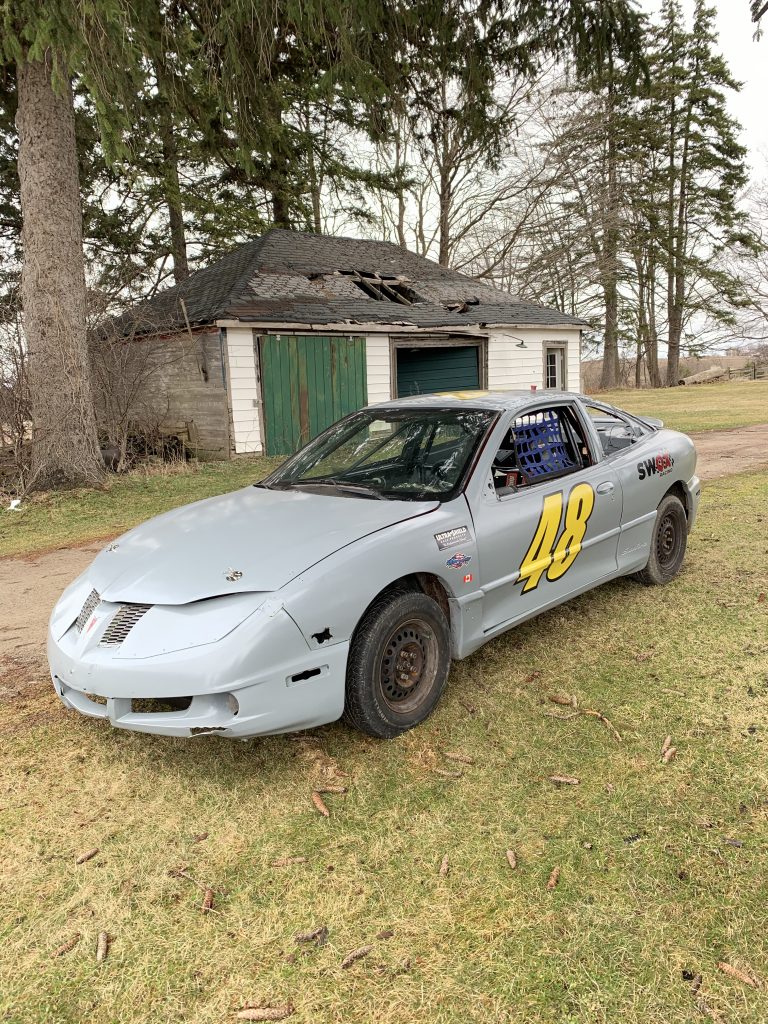 Nick Masson #48 Bonestock
DRIVERS 2020 PAINT SCHEMES
Patrick Freel #18 Pro Late Model
Shane Gibson #69 V8 Stock
Cody Coburn #91 Super Stock
Hopefully we will be racing very soon!!!
See you soon for the next column publication. Until next issue, Stay Safe and healthy Bob, Steve
Any comment, suggestions, news, topics, welcome. Please feel free to contact me at trackside@DelawareSpeedway.com