TRACKSIDE – March 2020

WOW, its hard to believe that so much has happened in the world since the last column. So many things have changed, and everyone is managing as well as they can, based on the direction from the World Health Organization and information being provided daily by the media. Trusting that everyone is staying safe and healthy. My hope is that this will normalize sooner, rather than later and we will all be in a position to get back to a more normalized life that YES includes the sound of engines, smell of fuel fumes and fresh rubber is being laid on the track, kicking of the 2020 Delaware Race Season.
This month's column contains a mixture of news and thoughts as we look to a more normalized future. Hoping it will provide a little reading material sparking excitement of the upcoming race season and an opportunity to share a little of what has been happening over the winter months in the world of Delaware Racing as we look to better days ahead.
If you haven't checked the 2020 Delaware Speedway Roster pages yet, you should! Late Models seem to be exploding with entries! It's probably going to be the strongest field in many, many years. New entries, new cars, drivers moving up into the division, highlight this class in 2020.
The Super Stocks have lost a few regulars from last year but have gained some new entrants which should really shake up the class for sure.
Truck and V8 Divisions are down in entrants currently. Hopefully we will see additional cars and trucks before opening night.
Bone Stocks look as strong as ever!
Over all lots of promise as we look at the current entries and making a call for those who have not entered to do so prior to the Delaware 2020 Race Season starting.
DRIVERS INFO 2020
Gary Adriaensen #55 Pro Late Model
"Things are going well here at Adriaensen Motorsports. It's been a busy off season with building a new house and recently getting engaged. The car is coming along well in between all that and we're excited to get back on the track and make a run for the Delaware Championship"
Name:  Gary Adriaensen
HOMETOWN:  Glencoe
OCCUPATION:  Electrician
YEARS IN RACING:  20
CURRENT DIVISION:  Pro Late Model
GOAL FOR 2020:  Championship
RACECAR:
IF EXISTING:  No major upgrades to speak of. Just a better understanding of adjustments
OWNER:  Adriaensen Motorsports
SPONSORS:  Dowler Karn Fuels, Bumper to Bumper, London Drive Systems, Guild Electric, Doxtator Property Maintenance, Speedpro Imaging, Century 21 – Murray Mugford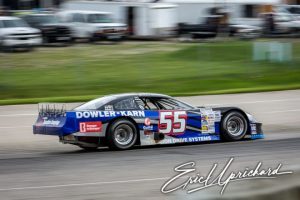 Gary, "the paint scheme will be the same for the most part with a very minor change"
Darrell Lake #77L Pro Late Model
Name:  Darrell Lake
HOMETOWN:  Mount Brydges
OCCUPATION:  Customer Service
YEARS IN RACING:  20+
CURRENT DIVISION:  Pro Late Model
GOAL FOR 2020:  To be competitive for the Canadian Short Track Nationals
RACECAR
EXISTING:  Same chassis as last year , but upgraded with new Mustang Gen 6 Body
OWNER:  Matt Lake
SPONSORS:  London Drive Systems, Custom Fluid Power, Maple City Tire
Bill Brekelmans #07 Super Stock
Name:  Bill Brekelmans
HOMETOWN:  Ingersoll Ontario
OCCUPATION:  Financial Services Advisor
YEARS IN RACING: 15
CURRENT DIVISION:  Super Stock
GOAL FOR 2020:  Win a race in Super Stock, Rookie of the Year
RACECAR:  McColl Super Stock Chassis, Trans Am Body
OWNER:  Jack Van Herk
SPONSORS:  Radar Auto Parts, Mitchell Cycle, Wilders Custom Paint, Brandy Point Service, A&J Auto Sales TC Performance.ca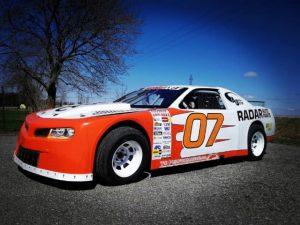 Jason Lidster #11 Pro Late Model
HOMETOWN:  St. Thomas
OCCUPATION:  Thames Valley Schoolboard Employee & long time St. Thomas business Owner
CURRENT DIVISION:  Pro Late Model
GOAL FOR 2020:  Consistent top 3 finishes and title contender
RACECAR:  New to the team
IF NEW:  Former McColl 2019 APC Championship Winning Car
SPONSORS:  Southwinds Roofing, Bill Fehr CPA, D&S Plumbing, Dominion Lending Centres, Elgin Travel & Cruises, First Ave Laundry, GWB Heating & Cooling, Stumps R Us, Elgin Tirecraft, Yarmouth Crane Service, McGregor Auto Parts
Jason, "without these sponsors we wouldn't be able to put together the level of equipment we will have this year"
Ryan Dyson #28 Truck
Name:  Ryan Dyson
HOMETOWN:  London, ON
OCCUPATION:  Marketing
YEARS IN RACING:  3 in full size cars
CURRENT DIVISION:  Trucks
GOAL FOR 2020:  Win more races and learn more in the races we're able to attend this season. We want to build off a great rookie season and be up front every week.
RACECAR:  Existing
IF EXISTING:  New Chevy Silverado body
SPONSORS:  APC Auto Parts Centres, MacMaster Chevy Buick GMC, Epic Racewear, Lucas Oil, Thorne Property Management LTD., 20/20 Insurance, Black Fly Beverage Co., ourExpression Studio, Puckstoppers, Frank & Gus Pizza, Dave Franks Photos
Ryan, "for 2020 we built a completely new body once again, and are what I believe is the first ones in Ontario and maybe Canada to debut the new Chevy Silverado. We also stripped the truck down and went over everything and made some upgrades where we felt necessary. We also spent a lot of time getting the truck to look exactly how we wanted with the panels, paint and vinyl"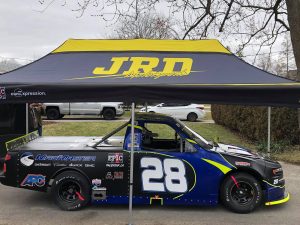 Cody Coburn #91 Super Stock
Name:  Cody Coburn
HOMETOWN:  Mount Brydges
OCCUPATION:  Zamboni Driver
YEARS IN RACING:  24
CURRENT DIVISION:  Super Stock
GOAL FOR 2020:  Learn as much as I can towards the car and finish every race
RACECAR:  New McColl Chassis 2016(never raced yet), Dodge Body
OWNER:  Cody Coburn
SPONSORS:  Looking for sponsorship opportunities currently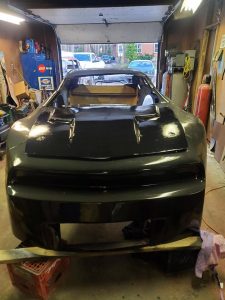 Matt Robblee #51 Pro Late Model
Name:  Matt Robblee
HOMETOWN:  Cambridge ON
OCCUPATION:  Engineering Technician
YEARS IN RACING:  20
CURRENT DIVISION:  Late Model
GOAL FOR 2020:  9 Races = 9 consistent finishes
RACECAR:  Same car as 2019 –McColl Perimeter LM – Former Ramsay/Cox/Gemmell car
EXISTING: any upgrades to current model? – We made a bunch of upgrades to the Chassis ahead of the 2019 season. Over the winter, we've just cleaned things up (new body, chassis cleanup, ETC) and made things more comfortable. We rearranged the driver's area, moved the seat and added more upgrades to the radio equipment
OWNER:  Matt & Steve Robblee
SPONSORS:  VIP Autopro, Kettlea Farms, Ray Cullen Chevrolet, Ball Construction, Federated Insurance, STS Roofing
Matt, "2019 didn't yield the results I think we are capable of. Some mechanical issues, bad weather and bad luck seemed to get ahead of us. That being said, I'm super happy with the progress we made with the car – We took a 10+ year old car and worked it up to run in the same "tenth of a second" as newer cars with much larger budgets. Were not the only team doing similar work – and its something that I think gets overlooked. Anyone can spend $100,000+ and have a fast car – we have several teams, ourselves included, who produce beautiful equipment at a fraction of that cost and still manage to run quick. That said, we all know how expensive any form of racing is and especially in these crazy times I think its important to keep sending out the message to support business who support racing! I'm not sponsored directly by the Autopro brand (for example) – We get support at the local level and it's important to make it known that these businesses aren't just names on the side of a car – they're made up of great people who share the same enthusiasm for racing as we do! Its also great to finally see guys moving up through the ranks. All of the divisions have had some new driver activity, and I'm looking forward to seeing some growth and talent development over the next few seasons. I think the racing community in Ontario is slowly coming together – It won't happen overnight – but steps are being made in the right direction."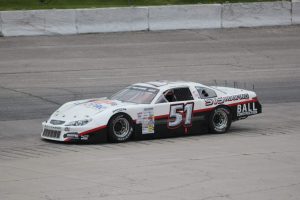 Ray Morneau #03 Pro Late Model
Name:  Ray Morneau
HOMETOWN:  Windsor ON
OCCUPATION:  Tombstone engraver
YEARS IN RACING:  13
CURRENT DIVISION:  Late Models
GOAL FOR 2020:  Win a feature
RACECAR:  Existing
IF EXISTING: any upgrades to current model? – New Body
OWNER:  Ray Morneau
SPONSORS:  Xpress group, Hallmark Memorial, Highland tools, Sun parlour trailers, Leitch Performance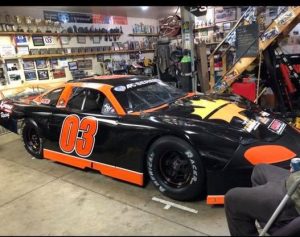 2020 PAINT SCHEMES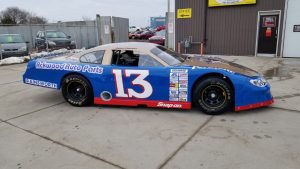 Jaden Chapman #13 Pro Late Model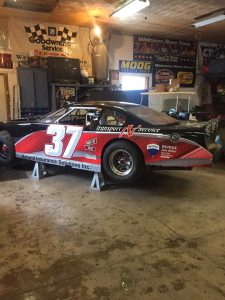 Steve Arrand #37 Pro Late Model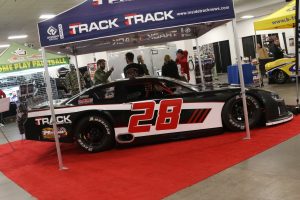 Kris Lawrence #28 Pro Late Model (courtesy of Ashley McCubbin)
Don't Miss your opportunity to still get the Inaugural Delaware Speedway Calendars
Delaware Speedway 2020 Inaugural Calendars featuring the drivers you voted for. These can be ordered online at diane@delawarespeedway.com for $10. Get your orders in while they last!
See you soon for the next column publication. Until next issue, Stay Safe and healthy Bob, Steve
Any comment, suggestions, news, topics, welcome. Please feel free to contact me at trackside@DelawareSpeedway.com