TRACKSIDE – November 2019

The Speedway has been shut down for over a month now and the Delaware Banquet has completed. Okay, lets get to back racing right now! I already miss it. It's going to be a long winter.  A fun season it was in 2019, competition was strong in most divisions, couple of divisions had car count issues, but what was there, was competitive. Hopefully as we move into the 2020 Season, this can maybe be rectified.
The 2019 Delaware Banquet was a huge success. Probably the largest crowd in a couple of years. Emcee, Jamie Maudsley, gave a great tribute to the late Jared Doxtator a peer and friend at the beginning of the program. Several drivers commented on Jared as being there to greet them with a smile at trackside for an interview, following up on an incident and to get the first words in victory lane. Most of the drivers that spoke had grown up with Jared their entire race career. A heartfelt speech by his good friend, Trevor Collver, moved the crowd. It was nice to see Tim and Carolyn Doxtator, Jared's Mother & Father at the Banquet as they received the first ever Voice of Delaware Speedway Award and to hear firsthand the wonderful impact that Jared has had on the race family and Delaware Speedway. Russ Urlin gave a heartfelt speech about the future of racing at Delaware Speedway. All in all, it was a proud night for everyone that is part of the Delaware Speedway family. A delicious Buffett and dancing afterwards made for an all-around great evening. Thanks goes out to Delaware Speedway for organizing such a great celebratory event.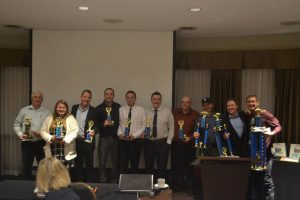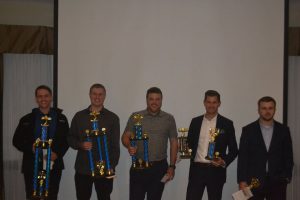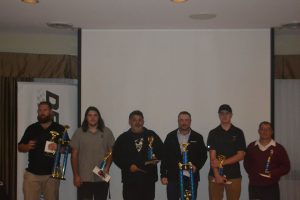 2019 Bone Stock                                             2019 Trucks                                            2019 V8 Stocks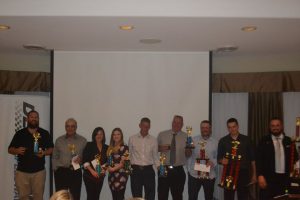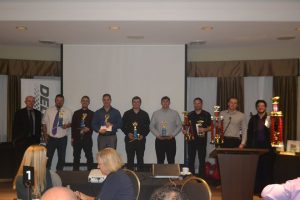 2019 Super Stocks                                         2019 Late Models
Many awards were given out, in celebration of the 2019 Season as listed below:
Awards
In Memoriam Jared Doxtator
Voice of Delaware Speedway Award to Tim and Carolyn Doxtator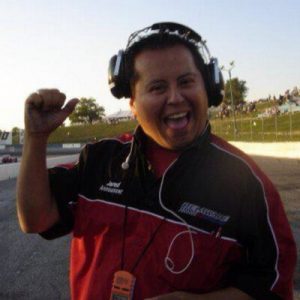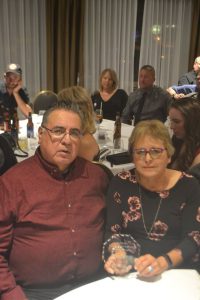 2019 Rookie of the Year:

Bone Stock:  Eric Martin #42
Trucks:   Austin Gauld #18
V8 Stocks:   Bill Brekelmans #07
Super Stocks:   Derek Moesker #51
Late Model:   Gary Adriaensen #55

2019 Class Champions:

Bone Stocks: Kris Lawrence #50
Trucks:   Jacob Campbell #44
V8 Stocks:   Barry Watson #45
Super Stocks:   Andrew Ferreira #9
Late Models:   Jo Lawrence #78

Employee(s) of the Year:       

Best Appearing Car:         

Kathleen Green #16 Super Stock

Most Improved Driver:         

Jason Lidster #11 Late Model

Most Sportsmanlike Driver:     

Derek Moesker #51 Super Stock

Harborne/Lawrence Spirit of Racing Award:   

Jaden Chapman #13 Late Model

2019 Division Sponsors & Partners Award:

Mike McColl Racing
Doxtator Property Maintenance
Demar Aggregates
Discounted Autoparts Delivery and Supply
Transaxle Parts

2019 Delaware Speedway Partners Award:

APC:  Luke Ramsay
Carstar:  Don Morton
Global Warranty:  Roy Neufert
Exeter Toyota:  Justine Frayne-Steenstra
Case N 'Drum Oi
TIDBITS
– Delaware Speedway finalized 2020 Season schedule should be out very shortly.   Stay tuned…..
– Some minor rule changes in a couple divisions, on the horizon for 2020 to help encourage drivers from other tracks to appear at Delaware Speedway
– Looks like Super Stock driver Brittany Beatty, might be hanging up her helmet as her car, trailer, everything is up for sale. I hope not, as she was very competitive this year
-Lot of cars changing hands right now also
-Looks like David McCullough has a Late Model in his race shop now, after he sold his older Super Stock #39, reportedly to Rob Windis
-Scuttlebutt from the Banquet, has a former Truck Division champ, making a jump to the Late models in 2020
-Congratulations to Delaware Speedway's, Jake Sheridan #52 on his great 12th place finish on his first ever appearance at the Fairgrounds Speedway in Nashville for their big All-American Weekend
– Donald Reinhardt Jr, may be running Delaware Late models next year, with racing great, Wayne Keeling part of the team. With Wayne on board, he should do vey well
– Great to see Stephen Richmond returning to Delaware Late Model for 2020 season
*Remembering two great Delaware Speedway Supermodified drivers; Norm Mackereth #40 & Bill "Flipper" Rowse #24, who both passed away recently. Great memories of them both! 
Don't Miss your opportunity to still get the Inaugural Delaware Speedway Calendars
Delaware Speedway 2020 Inaugural Calendars featuring the drivers you voted for.   These can be ordered online at diane@delawarespeedway.com for $10. Get your orders in while they last! A Great Christmas gift idea for that special race fan!
Pictures courtesy of Chis Culos
See you in December as trackside is now moving to a monthly publication during the off-season months.       Until next issue, Bob, Steve
Any comment, suggestions, news, topic's, welcome. Please feel free to contact me at trackside@DelawareSpeedway.com