TRACKSIDE – October 1, 2019

We are starting off this TRACKSIDE issue on an extremely sad note. As most of you may probably already know, Jared Doxtator, Delaware Announcer, passed away this past weekend, in his 42nd year. I didn't know Jared as well as a lot of people, but I had seen and heard him at the track in previous years. This year I got to know him a little better as I got more involved with the speedway, behind the scenes. He was a dedicated announcer and thoroughly enjoyed what he did. He had many memories of races and could remember them like it was yesterday. We were just chatting Saturday night, after the races, about plans for 2020. I'm going to miss getting to know him better. Condolences go out to his family and many friends. Rest in Peace Jared. You will definitely be missed.
This past weekend was the last race program of the 2019 Delaware Speedway season. The 150 lap Open Invitational for 4-cylinder cars was first on the docket for the afternoon program. Having never seen a race quite like this before, but have to say really enjoyed it. With the staggered start of cars, based upon their qualifying times, it sure was interesting. The fast cars were 14-15 laps down before they even got on the track. The winners were the fast cars, but the program made most of the field competitive with a chance for a good finish. There was a mix of Bone Stocks, Mini Stocks & 4-cylinder Dirt Modifieds. The Dirt Modifieds were an interesting breed of race car. They were great to watch, as the flex and the twists in the cars coming off the corner, were very visible. They would make an interesting class on pavement, if you could get enough of them. To see the quicker cars, come from the back was really entertaining. Passing 2 – 3 cars at once, inside, outside, sometimes between!
In the 100 lap Late Model Open, a decent field of competitive cars, with a few newcomers added to the mix. The cautions were few but didn't bother me that they were counted up until 5 laps to go. Kept the race from possibly becoming an Enduro!!!   For some reason the race had a more relaxed feel to it than a lot of 100 lappers. Jake Sheridan certainly has a handle on the Delaware racetrack, but Gary Adriaensen certainly kept him honest. I really hope this becomes a Delaware Speedway late fall race in 2020. Nice way to end the season.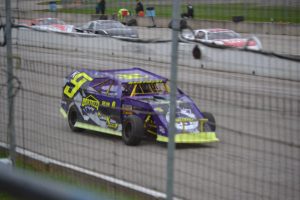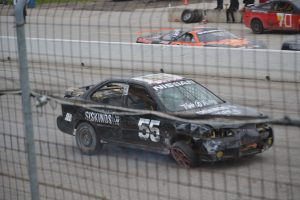 150 Winner West Bertozzi 4cyl dirt modified    Branden Crumbie 4cyl Porsche Mini Stock     Craig Cole #55 hard crash into front stretch wall
Picture from Chris Culos
TIDBITS
– It's too bad the dirt modified of Chris Hebert #7, had engine problems in practice. That car was flying around the speedway a full second faster than the second place car. Chris is also a Delaware Speedway Late model driver
– Bill Brekelmans #07 and Shawn Fucile #1 Bone Stocks, had nice top 5 runs in the 150
– Regular Late Model runner Terry Jacques #21 had a great run in the 100-lap race. Qualified a strong 5th and ran near the front until the car lost the handling and became very loose
– Hope people took notice on the 2nd place runner in the 150. Branden Crumbie #64 Mini Stock Porsche. Not usually a car you see in oval track racing. Car was quick though, getting the runner up position
– West Bertozzi #9K was another strong runner in the 150, grabbing the win, making up 14 laps & getting to the front by lap 90
– What a move by Ray Morneau #03 late in the Late Model race to grab 3rd. Especially in a car that was hurting!
– Good run by non regular Patrick Freel #18 LM, in racing to a 4th place finish. Being from London, he would make a nice addition to the Friday night fields
– Nice to see veteran Shawn McGlynn #1 LM back at the track. Another driver, I would love to see back at Delaware on a regular basis again
-Shawn Ritchie #3 made his 2nd start this year at Delaware, but unfortunatly had contact with the backstretch wall. It will get better Shawn!
Don't Miss your opportunity to pre-order you Inaugural Delaware Speedway Calendars
Delaware Speedway 2020 Inaugural Calendars featuring the drivers you voted for.   These can be pre-order order online at diane@delawarespeedway.com for $15. Get your orders in while they last!
This will be the last weekly issue of TRACKSIDE for 2019. The next Issue will be early November 2019, where we will cover the 2019 Delaware Speedway Banquet. Over the winter, TRACKSIDE will be monthly.
Until next issue, Bob, Steve
Any comment, suggestions, news, topic's, welcome. Please feel free to contact me at trackside@DelawareSpeedway.com