TRACKSIDE – September 3, 2019

Wild night of racing at Delaware Speedway last Friday night. I think all the drivers are getting pretty racy as the season is coming to a close. Transaxle Super Stocks were there along with the Demar Aggregates Trucks, Doxtator Property Maintenance V8 Stocks and the D.A.D.S. Bone Stocks.
The Features were terrific. There were battles all through the field in each Division. What was real interesting was the fact that a lot of new faces were up front. They may not have necessarily finished there but show great promise for the future. It's unbelievable how some rookies and/or newcomers have improved this year. Was also nice to see the painted Checkered Flag on the track at Victory lane on the front stretch. Nice backdrop for the race winners.
This Friday, August 30th, we return to the Speedway with Case 'N Drum Oil Late Models Presented by MRE, Demar Aggregates Trucks, Doxtator Property Maintenance V8 Stocks and the D.A.D.S. Bone Stocks
Let's Pack the Track this Friday. Show your support as the Season winds itself down.
What a treat it was to see the Krown Rust Control Junior Racing League at the track on Friday night. A lot of us don't get to see them as they race on Wednesday nights. Do you realize how many driving careers have come out of this league? It's pretty impressive if you go back to the beginning. Great to see the kids all line up to getting their Trophies and show off their cars. I'm sure it was a thrill for them also to be there on a Friday night race program and to complete a couple of laps around the half mile track to display their cars for the fans. Their season has just ended and listed below are their top points accompanied by their Driver Biographies. This is great racing and creates a wonderful learning experience for all who participated. Maybe next year you can plan to come out for a Wednesday evening or two to see the upcoming talent of tomorrow in action.
Krown Rust Control Junior Racing League
Special thanks to Hannah Whitworth for the wonderful support provided to the racers as the program director and management of the overall points and scoring for each of the races.
Here are the final points standings for 2019: 
 Rhett Mantik #22 -545
James Relou #7 – 528
Will Quarrie #6 -521
Kara Martin #53 – 507
Michael Verberne #19 – 500
Brayden Martin #51 – 486
Jolene Relou #16 – 474
Brooklyn Arends #88 – 426
Nathan Claveau #14 – 409
Liam Mullis #81 – 323
Chase Brunette #99 – 82 
Driver Biographies:
Will Quarrie #6  
James Relou #7
Sponsors: Aaroc, King Drilling
Years Racing:3
Age:12
Racing highlight: James got his first feature win this summer.  James and his sister Jolene are one of two brother and sister racing teams that competed in 2019.  
Nathan Claveau #14
Sponsors:
Years Racing: Rookie Season
Age:
Racing highlight: Nathan had a career-best second-place finish this summer and made great strides of improvement throughout the course of the season. 
Jolene Relou #16
Sponsors: Baseline Nurseries
Years Racing: 3
Age: 14
Racing highlight: Jolene got her first top 3 feature finish this summer.  
Michael Verberne #19
Sponsors: Akko cement finishers, McKenzie and Henderson Ltd, Falconers Ltd, Distinct Impression
Years racing: 4
Age: 12
Racing highlight: Michael got his first career feature win this summer  
Rhett Mantik #22
Sponsors: Storage Village, Vangrisven Farms, T E Transport 
Years racing: 4
Age: 13
Racing highlight: Multiple heat and feature wins as well as having fun with his fellow competitors.  2019 Champion  
Brayden Martin #51
Sponsors: Roses Stairs, Platinum Key Realty
Years racing: 6
Age:14
Racing highlight: Not rolling his car this summer and winning 2 heat races.  Brayden along with his sister Kara are the second brother and sister duo competing this summer.  
Kara Martin #53
Sponsors: Roses Stairs, Platinum Key Realty
Years racing: 6
Age:12
Racing highlight: Winning a feature and a couple of feature races this summer and rolling her car on Championship night  
Liam Mullis #81
Sponsors: Mom and Dad
Years racing: 3
Age: 8
Racing highlight: getting his first win at the age of 7  
Brooklyn Arends #88
Sponsors: Tigercat
Years racing: Rookie year
Age:7
Racing highlight: Brooklyn showed great improvement over the course of the summer and was the 2019 Rookie of the year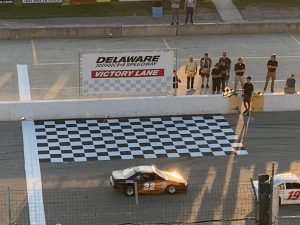 Krown Rust Control Junior Racing League Champion Rhett Mantik #22
TIDBITS
– what a strong run by Rookie Cooper Aubertin #28 in the V8 Stock / Truck Combined Feature leading almost two thirds of that race and finishing up a great third place
– whats with all the substitute drivers last week? Gary Adriaensen in the #33 V8 Stock; Jay ChappelL in the #78 Bone stock, Jo Lawrence in the #59 Bonestock; Steve Arrand in the #07 V8 Stock and Kevin Trevillin in the V8 Stock #4
– wild V8 / Truck Feature with the top 4 positions going to V8 Stocks, as a lot of the Trucks were eliminated in accidents
– what a welcome site to see Kevin Lay in a new Super Stock, back at the track after destroying his Late Model weeks ago. Once the bugs are worked out, he will definitely be a top runner. Good looking car the former Calvin Verheyen #8 of a few years ago
– for the last regular season, Friday night show for Late Models, lets try to get all of them out here and make it a huge show
– look for veteran driver Jay Doerr #43 to return this Friday night, September 6th in the Late Model division, in Rob Windis's former #29 car
– congratulations to all the Delaware speedway regulars who attempted and/or ran in the Canadian Short Track Nationals at Jukasa this was past weekend. They were an extremely tough field to qualify in as there was nothing but top cars entered in both the Pro Late Model & Super Stock races!
– Delaware Speedway Competitors can hold their heads high as they were more than competitive. Let's see some Delaware Late Models attempt the upcoming APC show in 2 weeks here at the speedway
-Late model car #28 of Tate O'Leary, currently 12th in points, is up for sale. Hopefully Tate stays with us at Delaware in 2020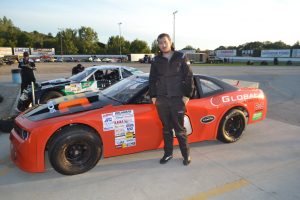 Kevin Lay #5 in his new Super Stock – Photo courtesy of Chris Culos
Don't forget the Delaware Speedway Swap Meet and Cruise-In this Sunday, September 8th. Vendors & Cruise Cars all on Pit Row. 7:00am opening. Call the Delaware Speedway office @ 519-652-5068 or Ken Chaplin @ 519-691-0398 for details
The Summer Contest has closed
An oversized Delaware Thanks to all Fan's, Friends and Family – who participated by voting for there favorite driver to adorn the inaugural Delaware Speedway 2020 Calendar!
Winners will be announced shortly with details to follow as to how to order your personal copy of the calendar!
Until next issue, Bob, Steve
Any comment, suggestions, news, topic's, welcome. Please feel free to contact me at trackside@DelawareSpeedway.com