TRACKSIDE – September 24, 2019

What a great day for racing it was last Saturday. Beautiful weather. It felt more like midsummer than the last days of summer. It was the annual Delaware Speedway Pumpkin Smasher, deciding the 2019 D.A.D.S. Bone Stocks Championships. Also included was a good old fashion Demolition Derby. I have been going to Delaware Speedway, since I was 3 years old, when my parents took me along. I have been a lifelong fan of Delaware Speedway and have seen many, many changes and many great races. That being said, this was my first ever Pumpkin Smasher! Always chose not to go, even though I was a season pass holder. I could not see the sense, racing through pumpkin guts. I was a true race fan. Would not accept this "charade of racing". Well, this year, since I write this column and was expected to attend, relief came over me, when I found out that the first 50 laps were run free of "no traction compound". It was a terrific race with the usual close racing of the Bone Stock Division. Then we came to lap 50. Race Stopped. Hundreds of small children and adults paraded onto the track with pumpkins and a few watermelons. Then they smashed them! I thought to myself, well here goes. Its going to be a long afternoon Bob. Get comfortable. When the green flag dropped, I cringed as they roared into the first turn. I thought this was going to be the Demolition Derby part. But I was wrong. Sure, there was a whole lot of spinning and sliding, but nothing monumental happened. No mass, 10 car pile ups. Still good solid racing, but with a twist. Experienced drivers certainly have developed a method of getting through the mess unscathed. You know what, it was fun. I thoroughly enjoyed the race. It does take skill, definitely on behalf of the drivers. I looked around in the grandstand and the kids, adults alike were thoroughly enjoying the race also. Isn't that what its all about? Good for the "true race fan", but also brings other people and kids out to the track, who may not have ever had an interest before. This is what we need to do to save local tracks. Bring new people out. I certainly have changed my view on this. Don't get me wrong, my first love is still Short Track Late Model racing, with powerful cars. I still enjoy watching practice. I still would rather have Time Trials for individual cars on a clear race track than Group Qualifying any day, but last Saturday was fun, enjoyable and still very competitive with talented drivers. I'll be back next year for sure. Even better, charities were supported.
Don't forget this Saturday, September 28th its the Ice Breaker Event with 150 Lap Enduro and 100 Lap Late Model Feature events., plus King of the Hill Spectator Race. It's the last track event for the 2019 Season. Come on out and enjoy an exciting event. It is going to be a long winter!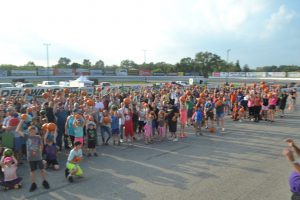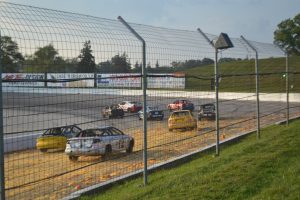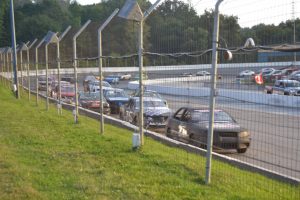 2019 Delaware Speedway Pumpkin Smasher
All pictures provided by Chris Culos
TIDBITS
– Interesting that brothers Jo Lawrence and Kris Lawrence picked up Delaware Speedway 2019 Championships! Not sure if that has ever happened before. Congratulations guys!
– Nice to see new Bone Stocks cars still coming out this late in the season. Looking good for 2020
– Could a certain Super Stock driver who was possibly retiring might come back for another season in 2020? I sure hope this is true
– Jason Lovie #21C, I bet wishes the season was just starting. Car is quick, even in a "mess of pumpkins"
– Thought for sure, Matt Langford #03 was going to get his first feature win of 2019. Car was strong again! Who gets 2 right side flats at the same time????
– Looking for an interesting Late Model 100 lapper this weekend with maybe some different cars added to the mix of already terrific Delaware regulars. Hoping drivers will support this added race in the late season. Especially for the fans
– The 2019 Season sure has gone quick but what a wonderful year its been for drivers and fans!
The Summer Contest has closed Stop by the souvenir booth and pre-order your inaugural 2020 Delaware Calendars with the drivers you helped, by voting for them. Drivers to be unveiled at the banquet. Order by the end of September for $10 and after September for $15. You can also place your order online at "diane@delawarespeedway.com"
Until next issue, Bob, Steve
Any comment, suggestions, news, topic's, welcome. Please feel free to contact me at trackside@DelawareSpeedway.com