TRACKSIDE – September 17, 2019

What a day of racing!! The annual Great Canadian Weekend is always a race most Delaware fans anxiously await all year. The history of this race is hard to match in Canada. Always a big event of good racing, best of the best drivers and controversial finishes. It didn't disappoint this year! With the Friday night portion getting rained out, everything was jammed into the Saturday program to provide nonstop action all day and evening. No complaining here. Very little down time, beautiful weather and action-packed races all day. Along with the APC Championship, there were Season Championships for TransAxle Superstocks, Demar Aggregates Trucks, Doxtator Property Maintenance V8 Stocks and a 30 lap Feature for the D.A.D.S. Bone Stocks. Did you see the APC Haulers in the pits parked nose to tail? Needed the room for racecars. Wouldn't that be nice problem to have every week? There was some damage to the pit building, when a Race Car hauler accidently backed into it. I don't think I have ever seen that happen before. That's how full the pits were! Crowd was excellent, many saying it was the largest crowd at Delaware Speedway in many years. OMG, if you missed this show you really need to make sure you don't miss the next one! History in the making!
Don't forget this Saturday, September 21st, the Annual Pumpkin Smasher – Bone Stock Championship will be at the Speedway along with a Demolition Derby. Come on out for some fun.
On September 28th, the Icemaker Open 4-cylinder Invitational for 150 laps and a King of The Hill spectator race.   A newly announced addition of a 100 Lap Pro Late Model Feature has been added to this program. This will be an awesome way to close out the 2019 Season at Delaware Speedway!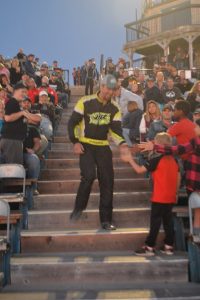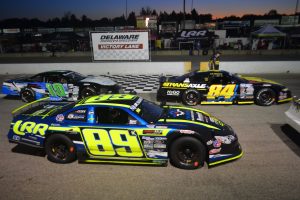 APC Drivers being introduced                     APC Drivers waiting for the start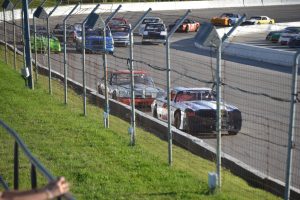 Ray Janisse Jr leading the V8 / Truck Feature
TIDBITS
– What a great run by Rookie Ray Janisse Jr #29, in the V8 Stock Feature. Held the lead for a long time, before finishing 2nd. Car and driver performed the best they have all year
– Paul Fothergill #33 having lots of bad luck this year. Hard hit into the 3rd turn wall last Saturday
– Did you see how many current and former Late Model drivers from Delaware Speedway, ran extremely well in the APC Championship 100? The track should be proud!
– Welcome to new V8 Stock runner Norm Schnekenburger in Barry Watson's #46 dirt car. Boy that car was fast and got a nice 3rd place finish in the feature after starting at the back
– Jason Lovie #21C has certainly found some speed in his car. Car handles well in the turns and down the straights, if you know what I mean
– Rough luck for Ron Beauchamp Jr. #60, in the APC 100 lapper. Car troubles for the former CASCAR & PINTY Series runner put him out way too early
– After a couple of clean races, it seems we are back into the beating and banging again, with no driver respect. This time in the Bone Stock Feature! Not good!
– Still seems to be some bad blood between drivers in the Super Stocks as well. Some interesting intentional blocking!
-After more than ½ of the season, the Trucks and the V8 Stocks still are the most entertaining Feature. The Trucks seem to be slower on the start but come on like "gang busters" as the feature winds down.
-Brutal hit by Andrew Gresel #81 late in the APC Feature. Sure, was glad he was okay. Car, not so much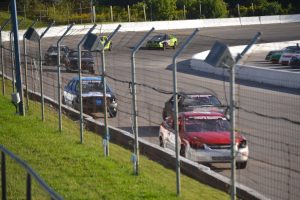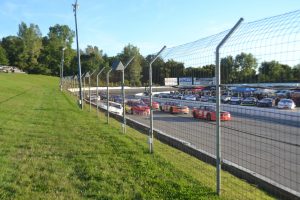 Bone Stock action on Great Canadian Weekend                                  Kathleen Green #16 into the wall on start                                                                              
 Delaware Speedway 2020 Inaugural Calendars
Stop by the souvenir booth and pre-order your inaugural Delaware calendars featuring the drivers you voted for.
Order by the end of September for $10 if and after for $15.  You can also place your order online at diane@delawarespeedway.com
Drivers to be unveiled at the banquet.
Until next issue, Bob, Steve
All pictures provided by Chris Culos
Any comment, suggestions, news, topic's, welcome. Please feel free to contact me at trackside@DelawareSpeedway.com