TRACKSIDE – September 10, 2019

Another great night of racing at Delaware Speedway this past Friday night. Cooler temperatures made for some hot racing. Season Championship for the Case 'N Drum Oil Late Models Presented by MRE were on the card, along with the Demar Aggregates Trucks, Doxtator Property Maintenance V8 Stocks and the D.A.D.S. Bone Stocks. The Main Feature of the night was the Seasons Championship for the Late Models. It seemed to be a pretty sure bet, until Jake Sheridan started to chip into the lead of Jo Lawrence little by little during the evening. A great field of 19 Late Models were in the pits for this night. Congratulations go out to Jo Lawrence #78, who drove a masterful race in the feature to lead most of the race and fought off all challengers. Jo has run well all year. Jake Sheridan, sure didn't give up the easily, but a blown tire during the feature sealed his fate. Great battle Jake! Not to be outdone on car count, the combined V8 / Truck Feature had a season high with 20 starters. Bone Stocks had 24 cars in the pits. It makes me sad the season is coming to an end shortly. The pits are full every night!
This Friday, September 13th, is the start of the annual Great Canadian Weekend. Friday has the TransAxle Superstocks, Demar Aggregates Trucks, Doxtator Property Maintenance V8 Stocks for Qualifying, Heats and Dash races and the D.A.D.S. Bone Stocks up for a 50 lap Feature.
On this Saturday, September 14th, it's the APC Great Canadian Feature for 100 laps, to decide the 2019 APC Champion. Also, on the track Saturday, will be the conclusion from the Friday night Delaware Championship program, with Super Stocks running 50 laps and the V8 / Trucks running a 35-lap feature race.
Let's Pack the Track this Weekend. Show your support, to the sponsors, racers and track, bring some friends as this race weekend will be action packed both days. Don't miss an opportunity to see some outstanding racing!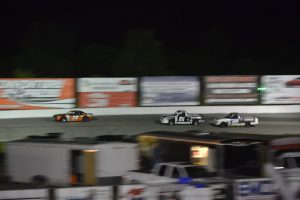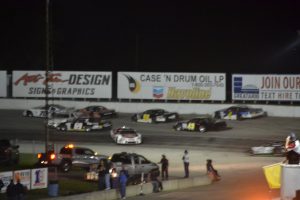 V8 / Truck Combined Feature Action                                                          Late Model Championship Feature Action
TIDBITS
– Jay Doerr had a successful return to Delaware Speedway with a strong 4th place finish in the Late Model Feature
– More substitute drivers last week! Steve Arrand back in the #33 V8 Stock; Trevor Collver in the #18 Truck; father Randy Thomson in Lonny Thompson's #4 Truck
– I'm betting Devon Bloemendal #01 truck will win the overall V8 / Truck Feature race this weekend. That truck is fast!
– Welcome to V8 Stock runners Chuck Stewart in the #9 and top runner Steve Shaw Jr in the #96. Shaw had a great run with an 8th place run in the Feature. That makes 4 drivers from the Southern Ontario Motor Speedway dirt track this year. Welcome to all of you
– Good to see the sleek black #1 of Cole Powell and the #29 of Ryan Kimball practicing their APC cars last Friday, for this weekend's APC championship Feature
– Bad luck seems to be continuing for Brandon Verhoeven #7 as the car was scratched early in the program with mechanical issues
– One of the hardest hits I've seen in a long time was Connor VanSteensel #71 Truck, head-on into the 2nd turn wall after some contact with Steve Arrand #33 in the V8 / Truck Feature. Both vehicles were severely damaged
– Don't forget Delaware Late Model drivers. Let's see some Delaware Late Models attempt this weekends at the APC show. Check your lap times. Even running with a restrictor plate, you are competitive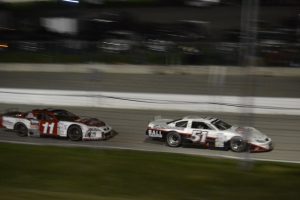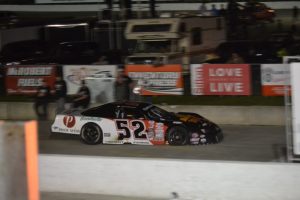 Jason Lidster #11 & Matt Robblee #51 battling in Late Model Feature               Jake Sheridan's#52 chase for the Championship ends with flat front tire
The Summer Contest has closed
An oversized Delaware Thanks to all Fan's, Friends and Family – who participated by voting for there favorite driver to adorn the inaugural Delaware Speedway 2020 Calendar! 
Winners will be announced shortly with details to follow as to how to order your personal copy of the calendar! 
Photos provided by Chris Culos
Until next issue, Bob, Steve
Any comment, suggestions, news, topic's, welcome. Please feel free to contact me at trackside@DelawareSpeedway.com