Final Races of the 2019 Delaware Season

West Bertozzi #9K Wins the 2019 Icemaker Open 150, Jake Sheridan #52 Wins 2019 Late Model Special
On a clear dry Saturday afternoon on September 28th, the final races of the 2019 Delaware Season got under way with the Ice Maker 4-cylinder 150 Lap Enduro followed by the 100 Lap Late Model special and ended with Spectator King of the Hill. It was an awesome field of Cars and good crowd to cheer on there favorite drivers, or attended for the first time.
For the Ice Maker 4-cylinder 150 Lap Enduro they started with group qualification to determine speed to set the starting line up.
Ice Maker 4-cylinder Enduro Qualifying Top Five
Marshall Hereygers #31, Brandon Crumbie #64, West Bertozzi #9K, Bob Tolton #13, Craig Cole #55 
Ice Maker 4-cylinder 150 Lap – Feature
This race was very interesting. With a different starting procedure, some of the faster cars were back 15 laps before they even got to start the race, based on their qualifying times. The #33 car of Tate O'Leary led to the green and had a 1 lap advantage before the next car was released. At lap 13, the red flag came out with the 33 of O'Leary stopped in a precarious position on the track with a flat tire. When the green flag came back out, Joe Kicks in his trusty #12 Saturn took over the lead. Action was all over the track, with the fastest cars trying desperately trying to unlap themselves and gain position on the leaders. On lap 54, the top 5 were Joe Kicks #12, Dan Storey #61, Tate O'Leary #33, Chris French #54 and Bill Brekelmans #07.  Kicks was still leading on lap 73, but Shawn Fucile #1 was now in the runner-up spot.  During the first half, some of the quick qualifiers, like West Bertozzi #9K and Brandon Crumbie #64, in his 4cylinder Porsche were making masterful moves through traffic to try and gain back their laps and close in on the leading positions. At lap 80, with Joe Kicks #12 in the lead, the Red flag was thrown for a mandatory break. Cars were directed to pit road for a 10-minute timed break to take on fuel and tires to complete this exciting event. Everyone kept their position, but the cars were now bunched together.  In a terrific drive, West Bertozzi #9K took over the lead on lap 90, erasing his 14-lap deficit. With two-thirds of the race over at lap 100, the top 5 were Bertozzi #9K, Fucile #1, Brekelmans #07, Mike Howard #3 and Jordan Willms #92. The red flag came out on lap 125 with a vicious crash on the front straight as Craig Cole #55 slammed the wall. The car was severely damaged and was towed into the pit area. Second quick qualifier Brandon Crumbie #64 was making his moves toward the front and moved into 3rd on lap 132 and then into 2nd on lap 135. He then set his sights on Bertozzi.   At the finish of 150 laps, West Bertozzi #9K won the 2019 Icemaker Open 150, with Brandon Crumbie #64 closing fast, one lap down for 2nd and strong runs by Bill Brekelmans #07, 3rd Shawn Fucile #1 in 4th and Bob Tolton #13 in 5th ,all 2 laps down.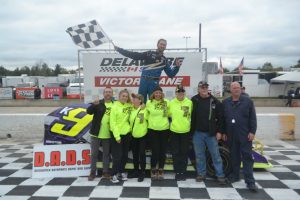 Late Model Special – Qualifying Top Five
Gary Adriaensen #55, Jake Sheridan #52, Matt Robblee #51, Jaden Chapman #13, Terry Jacques #21
Late Model Special – 100 Lap Feature
A late edition to the 2019 season ending show, was a 100 lap Late Model Special.  Coming down for the green flag, it was Kris Lawrence in brother Jo's, Delaware Championship winning #78 and veteran Shawn McGlynn #1 on the front row. Lawrence grabbed the early lead on lap 1, but McGlynn came fighting back on the outside. The pair ran side by side for a few laps before Lawrence finally took over. Behind them, there was a fierce battle for 2nd through 10th. At lap 10, Lawrence was still in command but Jake Sheridan #52 had moved into 2nd place with Gary Adriaensen #55 into 3rd. Lawrence and Sheridan were in a dead heat at the line on lap 13 and Sheridan moved into the lead on lap 14. The running order at this point was Sheridan #52, Adriaensen #55, Lawrence #78 slipping back to 3rd, McGlynn #1 in 4th, Matt Robblee #51 in 5th and Terry Jacques #21 a strong 6th.  Quarter of the race complete, it was Sheridan and Adriaensen fighting for the lead with a 10-car length lead over the rest of the pack. Patrick Freel #18 was looking strong as he moved up to 4th. First caution on lap 31 when 2nd place runner Adriaensen spun in corner 2. Another caution on lap 42 when Steven Macvoy #92 spun. Just over halfway, Sheridan had built up a 12-car length lead over Kris Lawrence, with Adriaensen storming from the back into the top 5. Laps were winding down as Adriaensen was climbing back into 2nd position, on lap 75. The front two leaders were slowly pulling away from the pack with some very quick lap times. Red flag came out on lap 90 as Shawn Ritchie #3 went head on into the back-stretch wall, with major front-end damage. At lap 93, caution was out for Terry Jacques, who had been fighting a loose race car all day, spun on the backstretch and was clipped by the #70 of Piper Adams.  Both cars retired to the pit area. Another caution on lap 94 when the cars of Marshall Schrenk #22 and Matt Robblee #51 connected on the back stretch with Schrenk into the wall, with body damage. With 3 laps to go, Jaden Chapman #13, who was strong all day and Patrick Freel #18 came together in turn 3, allowing Ray Morneau #03 to make a great move under both of them to grab 3rd spot. At the finish, it was Jake Sheridan #52, Gary Adriaensen #55, Ray Morneau #03, Patrick Freel #18 and Jaden Chapman #13 rounding out the top 5.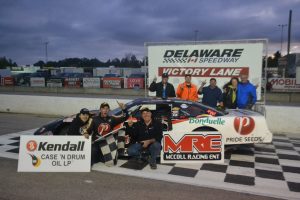 This closes out the 2019 Delaware Speedway racing season. It has been a terrific season, which started out with a lot of weather problems. A resurgence of car counts highlighted the season in most divisions which bodes well for 2020.
2019 Championship Banquet – Everyone is welcome
Date:                    Saturday, October 26th
Location:             Best Western Conference Centre Located on the Southeast corner of highway #4 and #401
Everyone is welcome to attend the banquet including drivers, teams, sponsors, spectators, and employees! The event will feature open seating with tables of eight.
Registered 2019 Delaware Speedway drivers will receive one free admission; additional tickets are available for $50 per person.
Doors open at 6:00pm with dinner being served at 7:00pm and awards getting started at 8:00pm.
Don't Miss your opportunity to pre-order you Inaugural Delaware Speedway Calendars
Delaware Speedway 2020 Inaugural Calendars featuring the drivers you voted for.   These can be pre-order order online at diane@delawarespeedway.com before the end of September for $10 and after for $15. Get your orders in while they last!