TRACKSIDE – August 6, 2019

Another wild night of racing at Delaware last Friday night. The competition seems to be getting closer and closer every week. If you missed the evening, there was a thrilling 3 wide finish in the second Bone Stock heat. One of the closest races ever!
We are probably over halfway through the season now and I would be interested in what you think about the racing season to date. If you find some time, I would like to hear your thoughts and maybe publish some in next weeks column. This is not an invitation for bashing, but some good old constructive thoughts would be much appreciated. Your voice is important to us! I feel the season has been good. Got off to a rocky start with all the rainouts, but certainly has found it's groove lately. The Late Models, with the largest entry list in several years is more exciting then ever. Super Stock are certainly closer than ever, with the top four basically equal and a couple more right behind them in speed. The surprise hit of the season has been the combined V8 / Trucks racing. I realize not everyone is happy with this setup, but the fans are thrilled with the results, it delivers consistently a very interesting and competitive race. Certainly, the most talked about features on a regular basis. Can't forget the Bone Stocks, who just simply amaze me as I watch them go 3 wide several times throughout the races. I watch, and think, "you can't do that there without someone crashing". Somehow, they all get through most times. Also, this season has been strong with Rookie driver contingent. Really good crop of rookies in all divisions. Email me comments at trackside@delawarespeedway.com
This Friday, August 2nd is the return of the Case 'N Drum Oil Late Models Presented by MRE, plus the Demar Aggregates Trucks, Doxtator Property Maintenance V8 Stocks and the D.A.D.S. Bone Stocks
Bring a friend or two! Remember to support the Sponsors that Support Racing. Show them that they are making a wise investment in the sport!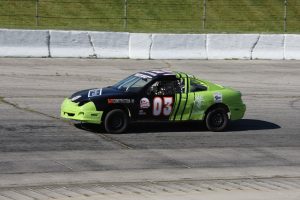 Matt Langford picture by Dave Franks
Meet the Driver – Matt Langford #03, D.A.D.S. Bone Stocks
HOMETOWN: Byron / London
OCCUPATION: Construction
YEARS IN RACING: 7yrs
IN CURRENT DIVISION: 7yrs
MOST MEMORABLE RACING MOMENT TO DATE: turning a car that finished last in points in 2012 to winning a Bonestock Championship in my rookie year!
FAVORITE DRIVER OR HERO: "Speedy" Jack Monaghan #03 and Daniel Prudhomme # 96
GOAL FOR 2019: Goal for the rest of the season is to get a win in 2019.
YOUR FAVORITE:
DINNER: Smoked Ribs
ICE CREAM: Cotton Candy
MOVIE: Home Alone
DRINK: Iced Tea
TV SHOW: Sopranos
MUSIC: Country
RACECAR:
OWNER: Matt Langford
YEAR ORIGINALLY BUILT: 2017
IF NOT NEW, DO YOU KNOW CARS ORIGINAL HERITAGE:
Matt's Comments on 2019 Season: It's been a up and down season so far.
I can't complain about the car it's been really fast thanks to my crew; we have had some mechanical failures and some
Bad racing luck. But all and all we have had a lot of solid top 5 finishes. 
*In last weeks Bone Stock Feature race, it was reported during the race and in the written results, that Jeremy Taggart was in the Matt Langford #03 car. After hearing from Matt & Jeremy, both confirmed that this was not the case. The results were revised and posted again and apologize to both Matt & Jeremy for this mix up. Matt got a great 2nd place finish in the Feature. 
TIDBITS
– when has anybody run down and passed the black #33 of Paul Fothergill in the V8 Stocks this year? That's exactly what Barry Watson in his #45 did last Friday night. Should be fun to see those two battle for the rest of the season.
– great to see Derek McCullough racing last week in Cody Payne's #00 V8 Stock. Certainly, got right back in the racing groove in a hurry with a great run. Maybe run for the rest of the season?
– how about Devon Bloemendal in his #01 Truck making another appearance at the speedway and running very quick. Always so entertaining to watch Devon! Hope he stays a regular on Friday nights.
– last time the Late Models ran; we were missing the cars of Windsor drivers Steve MacVoy #92 & David Patrick #94 and Londoners Stan Adams#3 and Piper Adams #70. Hopefully they will return this week
– good to see Derek Moesker #51 Super Stock grabbing his second Heat win this year. Getting more and more used to the faster cars
– I think the #9 Super Stock of Anthony Ferreira gained some speed last week. Sure, was strong
– congrats go to former Delaware Super Stock runner Shae Gemmell on his first APC series Feature win. Won at Sauble Speedway last weekend
– also, former Delaware Late model runner Matt Pritiko picking up a Feature win in the first of the two Sauble APC features
– don't forget coming up on Saturday, August 17th, the return of the powerful ISMA Supermodifieds    
– veteran Delaware fans will remember this driver. Michigan Supermodified standout, Wayne Landon passed away August 4,2019. Wayne was a regular weekly competitor on Friday nights in the early 1970's when the track became a half mile oval. Nice gentleman and extremely talented car builder and driver. RIP Wayne.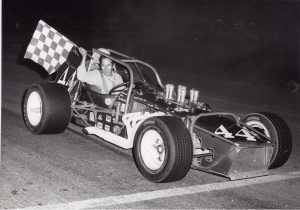 Wayne Landon picture by Brian Norton 
* Fan's, Friends and Family – It's August Don't forget the SUMMER CONTEST- VOTE NOW – don't miss the opportunity to see your favorite drive on the Delaware Speedway 2020 Calendar get your ballot to enter at the Souvenir Booth and drop off at the same location. Contest closed at the end of August, Drivers with the most votes will adorn the 2020 Delaware Calendar.
Drivers: Chris Culos will be around to take pictures of you and your race vehicle for possibly being in. Voting has started!
Until next issue, Bob, Steve
Any comment, suggestions, news, topic's, welcome. Please feel free to contact me at trackside@DelawareSpeedway.com