TRACKSIDE – August 27, 2019

Another night of great racing at Delaware Speedway last Friday night. A little cooler weather and the race cars picked up speed as Track Records got broken. Case 'N Drum Oil Late Models Presented by MRE were there along with the Demar Aggregates Trucks, Doxtator Property Maintenance V8 Stocks and the D.A.D.S. Bone Stocks
Competition picked up drastically as we start to wind down on the regular racing season and people are fighting for points. The best overall Feature of the night to me, was the Bone Stock Division. There must be 10-12 cars that are almost equal which makes for fun racing. Don't get me wrong, all the Features were terrific but for the number of cars fighting for the top 5 positions, the Bone Stocks came out on top. I noticed a lot of the Late Models were running faster than they have all year. Rookies have vastly improved in all Divisions. Couple more weeks of regular racing. Where has the season gone? Take a look around the Track next time you are out.  Look at all the Billboards and use these Sponsors whenever you can. They support racing and the Speedway. Lets, make sure we support them!
This Friday, August 30th, we return to the Speedway with Transaxle Super Stocks, Demar Aggregates Trucks, Doxtator Property Maintenance V8 Stocks and the D.A.D.S. Bone Stocks
Let's Pack the Track this Friday. Make sure you bring the kids as it's the last weekend before School starts.
 Meet the Driver – Conner Van Steensel #71 – Demar Aggregates Trucks
Hometown: London, Ont
Occupation: Student
Years in Racing: 8
Current Division: Trucks 
Favorite Driver: Jeff Gordon
Dinner: Steak
Ice Cream: Vanilla
Movie: Iron Man
Drink: Monster Energy 
TV Show: The Butcher 
Music: Rock
Racecar: Ford Raptor Trophy Trucks
Year Built: 2010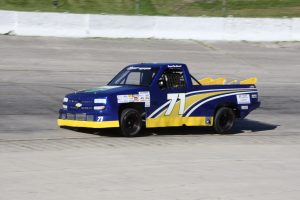 Connor Van Steensel #71 – Photo courtesy of Dave Franks
TIDBITS
– great to see David Patrick #94 Late Model back in action
– also, good to see Trevor Collver #1 Super Stock practicing last Friday night, after a bad crash a couple of weeks ago
– Rick Castle #73 back in action in the Truck division
– how about that intense 5-6 car battle for 3rd place, in the Bone Stock Feature. That was wild for almost the entire 30 laps!
– fun to see Cayden Lapcevich, former Pinty's Series Champion, out hot lapping in practice, in one of Mike McColl's cars
– another "sort of new" Late Model appeared last Friday night, with former Delaware regular Branden Verhoeven #7 running for the first time this year as a Delaware Late Model
– wasn't the #55 of Gary Adriaensen Late Model a Rocket last Friday night!!
– I wish all the Late models that have ran here this year, would all show up at the same time. "Helluva" field of cars!
– congratulations on Ray Morneau #03 Late Model on his first win this year at Delaware Speedway. Long overdue
– veteran driver Jay Doerr #43 after a shot hiatus will return this year in the Late Model division, in the recently purchased former Rob Windis #29 car
– this weekend is the Jukasa Speedway Canadian Short Track Nationals. Good luck to all the Delaware Speedway regulars entered in both the Pro Late Model & Super Stock races!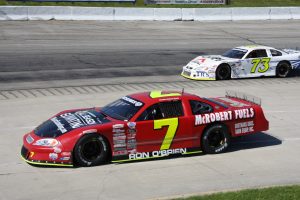 Branden Verhoeven #7 – Photo courtesy of Dave Franks 
*Last Chance for the Summer Contest….
Fan's, Friends and Family – this Friday August 30th is the deadline for the SUMMER CONTEST- don't miss your opportunity! VOTE NOW – See your favorite driver on the inaugural Delaware Speedway 2020 Calendar get your ballot to enter and drop it in the ballot box at the Souvenir Booth. The competition is close so help close the gap. Drivers with the most votes will adorn the 2020 Delaware Calendar.
Drivers: Chris Culos will be around to take pictures of you and your race vehicle for possibly being in. Voting has started!
Until next issue, Bob, Steve
Any comment, suggestions, news, topic's, welcome. Please feel free to contact me at trackside@DelawareSpeedway.com