TRACKSIDE – August 20, 2019

What a wild night of racing last Saturday! With fans filling the hillside, there was just a huge buzz surrounding the track. Wish we could fill the hillside every week. The ISMA Supermodifieds were there along with the OSCARR Open Wheel Modifieds and the Transaxle Super Stocks. Three terrific Divisions, all unique. Many thanks go out to CARSTAR LONDON CENTRE for their terrific sponsorship of the night and overall support of Delaware Speedway. With sponsors like CARSTAR, it makes special nights like these possible. The supermodifieds are so fun to watch. They are beautiful, fast and loud! What more could a fan ask? The OSCARR Modifieds were back for their second show of 2019 and put on a terrific event. I must admit, a few years ago, I was not a huge supporter of this series, due to their always low car counts at Delaware Speedway. Last Saturday changed my mind. A healthy field of cars and great racing made for an exciting race event. Nice to see and comeback anytime. The Delaware Transaxle Super Stocks were also on the card for 50 laps and they not disappoint. A smaller field than normal, but wild, wild action and definitely some controversy made for an interesting race. Hopefully new fans that came Saturday night, will come back again for regular nights. The races are just as exciting on a regular Friday night show. 
Personal Opinion
Since I do get the privilege to write this column, I want to address what's happening on the track, not only last Saturday night, but a trend that started weeks ago. THIS IS MY PERSONAL OPINION ONLY. The aggressiveness and total lack of respect for other race drivers, on the track must stop. This is not aimed at any one driver or class, it's to everybody out there. I sit in the stands every race night and watch intensely, because I'm a huge fan and I need to write about the evening's races. I also have been watching races a lot longer than most people or racers out there. There isn't just one driver or one class that's immune to this OVERLY aggressive behaviour. Am I saying all drivers are guilty of this, of course not? What I Am saying is, I like aggressive behaviour! I love short track racing.
What I don't like is OVERLY AGGRESSIVE driving AND TOTAL LACK OF RESPECT FOR OTHER DRIVERS. This can't be tolerated or allowed. We now have had several thousands of dollars in car repairs over the summer and fortunately no one has gotten hurt but if this persists someone will get hurt! If you don't think someone cannot get hurt at a half mile track like Delaware Speedway, then you shouldn't be racing. Also, not everyone can afford to fix major damages and we end up losing car counts. The racing suffers and the fans suffers.
If this sounds like a sermon, I know. Hey, as I say, I'm all for and fully support a "bump and run" if you are faster and just can't get by. Part of the game for sure. We just can't have "deliberate take outs" that result in car damage and drivers that don't even attempt to pass before they lay on the bumper.
This Friday, August 23rd ,we return to regular Friday night racing with the Case 'N Drum Oil Late Models Presented by MRE, Demar Aggregates Trucks, Doxtator Property Maintenance V8 Stocks and the D.A.D.S. Bone Stocks
Let's Pack the Track this Friday, you know we can!
Meet the Driver – Andrew Peach #27, D.A.D.S. Bone Stocks – Rookie of the Year Contender
HOMETOWN: London
OCCUPATION: Mechanical Engineer
YEARS IN RACING: 0.5
IN CURRENT DIVISION: 0.5
MOST MEMORABLE RACING MOMENT TO DATE: The first time I sailed it into Turn 1 in pre-season practice.
FAVORITE DRIVER OR HERO: Earnhardt / Earnhardt Jr.
GOAL FOR 2019: Have fun and get better with each race.
YOUR FAVORITE :
DINNER: BBQ Striploin
ICE CREAM: Vanilla
MOVIE: Anchorman
DRINK: Root Beer
TV SHOW: The Curse of Oak Island
MUSIC: Christian / Classic Rock / Country
RACECAR: Neon
OWNER: Andrew Peach
YEAR ORIGINALLY BUILT: Unknown
IF NOT NEW, DO YOU KNOW CARS ORIGINAL HERITAGE: Raced by Ryan Dyson in 2018, unsure of prior history. 
Andrews comments on his 2019 Season so far
"I think our season has been going well thus far especially since it's our first year racing. After purchasing the car, we didn't have any expectations coming in to the year other than to finish each race. We knew little about fixing cars prior to the season starting but over time we're getting used to knowing what adjustments to make, what lines to run and how to fix any damage we've had.
Several established teams have been extremely helpful in sharing their knowledge and giving pointers which has been awesome, and each week we're getting faster and more comfortable. A special thanks to the Morris, Dyson, Rockwood and Drope teams for their help and guidance
So far, we've managed to grab a couple runner-up finishes in our Heat Races, so hopefully we can score a Heat win before the year is out
If you're considering jumping into the class next year or even getting started before the year is out: do it! We'd love to see you on the track!"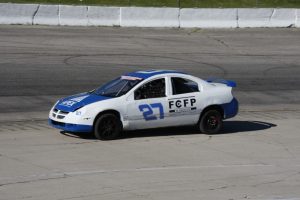 Picture by Dave Franks 
TIDBITS
– wow, did Mike Ordway Jr.#61 put a whipping on the rest of the ISMA field last Saturday? Clyde Booth's famous creation was stellar
– nice to see local favorite Mark Sammut #78 Super Modified have a great run
– good turnout of Open Wheel Modifieds. Great looking cars and quick
– great run for Brittany Beatty in her #14 Super Stock for a 5th place feature finish. Brittany is currently 6th in points in the Super Stock division.
– might see the return of a driver who wrecked earlier in the season, before this season ends. Will be a welcome addition to the field if he's able to get back
– past local driver Adam Quarrie's former #6 Late model up for sale in Windsor. Very quick car.
– hopefully the Windsor team of David Patrick and Steven MacVoy will be back soon in their Late Models
– this is interesting, retired driver Jesse Kennedy practicing a Super Stock and OSCARR Hot Rod at Jukasa Speedway last week in an Open Test
– can't believe how quickly the season is going! Come out before it's over for another year!
Was this the last race for Gary Elliott #36 at Delaware Speedway? Hope not! Gary will be relocating after the 2019 Racing Season back home to the East Coast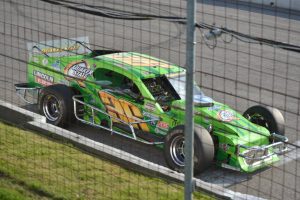 Picture from Chris Culos 
* Fan's, Friends and Family – End of August is the deadline for the SUMMER CONTEST- don't miss your opportunity! VOTE NOW – to see your favorite driver on the Delaware Speedway 2020 Calendar get your ballot to enter at the Souvenir Booth and drop off at the same location. Drivers with the most votes will adorn the 2020 Delaware Calendar.
Drivers: Chris Culos will be around to take pictures of you and your race vehicle for possibly being in. Voting has started!
Until next issue, Bob, Steve
Any comment, suggestions, news, topic's, welcome. Please feel free to contact me at trackside@DelawareSpeedway.com