TRACKSIDE – August 13, 2019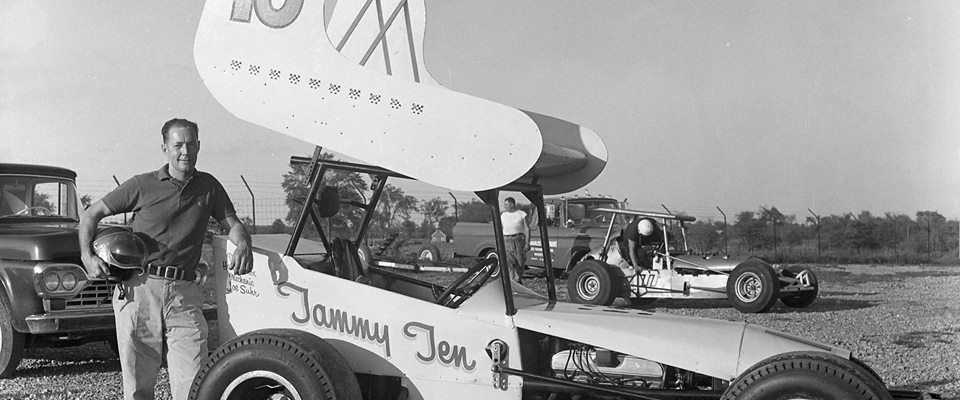 Great racing last Friday night. First rollover of the 2019 season was accomplished by Kris Lawrence in the Bone Stock heat race. It was already to go in the Feature race but seemed to still haver a few nagging issues. Wow, has that #50 car been through a lot in its lifetime? Still quick though. Some real great racing but some wrecked equipment also, which never is good thing. So many race cars are running well at this stage of the season. Good fields of cars in all Feature divisions. I wish we were back in May, not in mid August. It's so great to see race teams leveraging Social Media to get the word out about Racing at Delaware Speedway and to build a great connection between the drivers and the fans. It's greatly appreciated by the Speedway and a nice reminder to those people that haven't been out in a few years as well as the brand-new fans.
The ISMA Supermodifieds return to Delaware Speedway this Saturday night August 17th. After the rainout earlier in the season, we are all waiting for the sounds of the "winged big blocks". Delaware is rich in Supermodified history. It goes back to early days of the quarter mile track here, with racers such as Jack Sharpe in Lobo 1, Harvey Lennox in Tammy 10, Al Kerr in the Robblee #3, Al Mitchell and Bill Rowse in Hank Jamieson's #24 from the London area. Add Gary Witter #19 and Jimmy Howard #38, both driving powerful Chrysler powered race cars out of the Howard stable of cars and they were tough, hard fought Feature races. Of course, you had visiting racers from Windsor, Chatham, Sarnia and even Michigan that would show up on various nights. When the track was enlarged to a half mile in the early 1970's it opened with weekly Supermodified racing. Racers would show up from Michigan, Ohio, Indiana and New York every week to join the racers from Ontario. The variety back them, was the hallmark of the supermodified class. I remember seeing the standard upright Racer along with Sprint Cars, former Indianapolis Speedway roadsters converted to Supermodifieds, 4-wheel drive rear engine cars and the radically offset engine cars. To me, it was the glory days of Supermodifieds. There were actual racers from New York that would drive to Delaware on a Friday night to race and turn around to go back to race the famed Oswego Speedway, in New York on the Saturday night. Oswego and Delaware Speedways had a combined point race for a time. The ISMA cars of today are masterminds of ingenuity. So quick, so beautiful! If you have not seen a Supermodified show ever, you are in for a treat for the senses. Come on out and enjoy a huge full night of racing!
This Saturday, August 17th is the return of the ISMA Supermodifieds, plus the Transaxle Super Stock and the always entertaining OSCAAR Open Wheel Modifieds. Remember this is a SATURDAY SHOW!
Let's Pack the Track this Saturday, you know we can!
Something new: This Friday night August 16th, something wicked and cool is being added, you can time trial your own vehicle on the speedway. See details on Delaware Website…….
Meet the Driver – Brent Pelley #13, D.A.D.S. Bone Stocks
HOMETOWN: Windsor Junction, N.S., currently residing in Petrolia
OCCUPATION: Truck Driver
YEARS IN RACING: 22 yrs. on and off of course
IN CURRENT DIVISION: Bone Stock
MOST MEMORABLE RACING MOMENT TO DATE: every race brings new memories

FAVORITE DRIVER OR HERO: Scott Fraser #00 aka "Shubie Shuttle" in ASA
GOAL FOR 2019: Grab a couple of wins, be competitive and finish better in the standings than last season
YOUR FAVORITE:
DINNER: Lobster
ICE CREAM: Peppermint
MOVIE: Don't have a favorite
DRINK: Rye & Water
TV SHOW: Shameless
MUSIC: Rock
RACECAR: 2002 Nissan Sentra
OWNER: P & R Motorsports
YEAR ORIGINALLY BUILT: Unknown
IF NOT NEW, DO YOU KNOW CARS ORIGINAL HERITAGE: Car was originally built by Craig Cole and won the championship in the 2018 season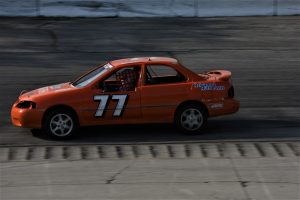 Photo supplied by Dave Franks
TIDBITS
– Paul Fothergill #33 V8 Stock absent from last weeks activities due to a reported expired engine. Hope to see him back soon.
– Ryan Dyson #28 Truck was so strong in the V8/Truck Feature. A couple more laps and I think he would have had the overall win
– first time since they started combining the Trucks and V8s in the Feature that a Truck racer actually led the most laps. That was Rookie Ryan Dyson.
– great run for Kris Lawrence #28 Late Model with a 2nd place finish in the feature
– also, a great run for Rookie Late Model driver Marshall Schrenk #22 in a fantastic 5th place finish in the Feature
– noticed the Rob Windis #29 Late model up for sale
– hearing a rumour about a current V8 Stock driver and sometimes Bone Stock fill in, moving up to Super Stock next season. That would be great news. We'll have to wait and see
– quick times for Derek McCullough in the Cody Payne #00. Car is running very well
-good to see a new Late model in the pits last week. Shawn Ritchie #3 drove down from Echo Bay, Ontario, near Sault Ste Marie. Runs at the Laird Speedway against the Outlaw Late Models. Nice team for sure. Here's hoping he might make his Home Track, Delaware Speedway in 2020. Welcome to Delaware Speedway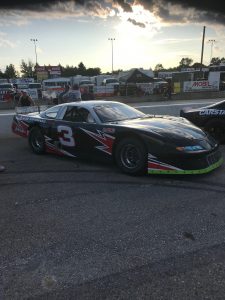 Beautifully prepared Pro Late Model of Shawn Ritchie.
Vintage Supermodifieds.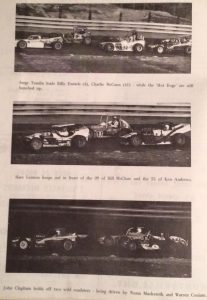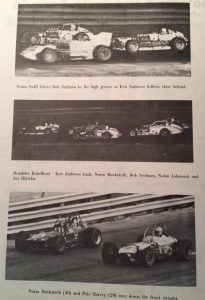 Pictures from Delaware Speedway Programs 
* Fan's, Friends and Family – End of August is the deadline for the SUMMER CONTEST- don't miss your opportunity! VOTE NOW – to see your favorite driver on the Delaware Speedway 2020 Calendar get your ballot to enter at the Souvenir Booth and drop off at the same location. Drivers with the most votes will adorn the 2020 Delaware Calendar.
Drivers: Chris Culos will be around to take pictures of you and your race vehicle for possibly being in. Voting has started!
Until next issue, Bob, Steve
Any comment, suggestions, news, topic's, welcome. Please feel free to contact me at trackside@DelawareSpeedway.com