TRACKSIDE – July 9th, 2019

Welcome back Case 'N Drum Late Models Presented by MRE. Only second race night of the season, due to rainouts. What a terrific showing in all classes last Friday night. It was also the Jukasa Canadian Short Track Nationals Qualifier for their big show on Labour Day weekend. Jaden Chapman in his great looking black & gold #13 Camaro took the Qualifier with a terrific run, holding off Jo Lawrence #78 and a fast-improving Jason Lidster #11. A lot of drivers had excellent nights. What a nice sight to see 19 Pro Late Models, in the Delaware pits on Friday night. Again, the controversial V8 Stock & Truck Combination Feature was a dandy. You can have any opinion on one side or the other, but from a fans point of view, it is perhaps the most entertaining racing! At least, that's this person's opinion. Both classes certainly go for broke each and every race. TransAxle Super Stocks, will be running their Jukasa Super Stock Qualifier this Friday night, July 12th, for the Short Track Nationals. Already Delaware Speedway has Trevor Collver, in his #1 already locked into the Nationals after his win a couple weeks back at Jukasa Speedway. Demar Aggregates Trucks, Doxtator Property Maintenance V8 Stocks and Discounted Autoparts Depot and Supply Bone Stocks will join the Super Stocks this friday.
*Adding to an already full racing card this Friday night, July 12th, the exciting OSCAAR Open Wheel Modifieds will join the Delaware Speedway regular racers for heat races and a 40 lap Feature. This is a make-up race for their rained-out June 15th appearance. It will be good to see them back at the track after a couple years absence.
Full night for fans. Don't miss this show! It's exceptional entertainment for the family and friends to sit back enjoy the speedway and see some magnificent racing!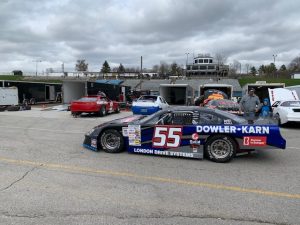 Meet the Driver – Gary Adriaensen #55, Case 'N Drum Late Models Presented by MRE
HOMETOWN: Glencoe, but currently living in Belmont.
OCCUPATION: Electrician
YEARS IN RACING: 20
IN CURRENT DIVISION: Pro Late Model
MOST MEMORABLE RACING MOMENT TO DATE: 2018 Super Stock Championship
FAVORITE DRIVER OR HERO: Kevin Harvick
GOAL FOR 2019: win PLM Rookie of the Year and Championship
YOUR FAVORITE:
ICE CREAM: Butterscotch or Black Cherry
MOVIE: anything action
DRINK: water
TV SHOW: Big Bang Theory
MUSIC: Def Leppard
RACECAR:
OWNER: Gary Adriaensen
CHASSIS / YEAR ORIGINALLY BUILT: 2014
IF NOT NEW, DO YOU KNOW CARS ORIGINAL HERITAGE: Jason Parker's APC car. 
TIDBITS
 – great run and congratulations go out to Jaden Chapman #13 and crew on his win last Friday night. Nice group of people. Awesome drive!
-I think Jason Lidster #11 PLM surprised many fans at the track with his excellent 3rd place finish in the 2nd feature. Kind of, "where did he come from" all of a sudden.
-nice to see Paighton Jacobs #5 join the Delaware Late models for the first time this year. Hope we see more of her racing in the coming weeks.
-was really impressed by the run of Windsor's Chris Hebert in his 31 PLM. Ran really strong in the first Feature, until the handling seemed to go away in the last half of the race. Getting quicker every wee
-Veteran Steve Arrand had a great night in Paul Fothergill's Monte Carlo
– Ryan Dyson and team stripped down the #28 Truck after an incident in the Feature race. Major damage to the #28, but they mentioned they will be working every night this week to get the truck back in shape for this Friday night.
 -Chris Medlinger in his potent #75 Bone Stock certainly put a "whipping" on the rest of the Bone Stock field last Friday night. Great run Chris!
 -Jacob Campbell in the #44 Truck is certainly the top of the class in that division, at the moment. I think an overall Feature win in the V8 / Truck combo race will be happening shortly
 -nice to see veteran Devon Bloemendal in his trusty #01 back in action. I love watching him drive. The truck is very fast and Devon gets 110% out of it, every race.
-always sad to see a race car cradled off the track. Hope there was not too much damage to the Marshall Shrenk #22 PLM and hopefully will be back for the next Late model appearance.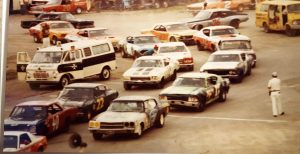 Delaware Street Stocks – 1982.       Picture from Trevor Van Leeuwen           
* Live at Delaware Speedway SUMMER CONTEST July through August – VOTE NOW – get your ballot at the Souvenir boot and enter your favorite Delaware Registered driver! Drivers with the most votes will adorn the 2020 Delaware Calendar.
Drivers: Chris Culos will be around to take pictures of you and your race vehicle for possibly being in the Delaware Speedway 2020 Calendar. Voting has started!
Until next issue, Bob, Steve
Any comment, suggestions, news, topic's, welcome. Please feel free to contact me at trackside@DelawareSpeedway.com