TRACKSIDE – July 4th, 2019
After a great show last Saturday night, with the APC Series and the TransAxle Super Stocks, we are back on this Friday night, July 5th at regular times with the running of the Case 'N Drum Late Models Presented by MRE on the race card. It will only be their second appearance at the track in 2019, due to the weather issues. Should be a fantastic night with over 23 Late Model cars registered this year. Demar Aggregates Trucks, Doxtator Property Maintenance V8 Stocks and Discounted Autoparts Depot and Supply Bone Stocks will join the Late models.
What a terrific crowd it was last Saturday night coupled with amazing weather. Sure would be nice to see that level of crowd every Friday night. Remember to bring a friend to the track which is always great way to celebrate the summer. The regular shows are equally as exciting as the Touring Divisions watching your local teams compete and grow. Come out and see for yourself! 
Meet the Driver – Jason Lidster #11, Case 'N Drum Late Models Presented by MRE
HOMETOWN: St. Thomas, Ontario
OCCUPATION: owned First Ave Laundry for 16 years and rental properties. I also work for Thames Valley School Board
IN CURRENT DIVISION: Case 'N Drum Late Models Presented by MRE
MOST MEMORABLE RACING MOMENT TO DATE: Winning Super Stock Championship in 2009
GOAL FOR 2019: Rookie of the Year Contender
YOUR FAVORITE:
ICE CREAM: French Vanilla with real Maple Syrup
MOVIE: The Last American Hero
MUSIC: loud and not for slow dancing
RACECAR: McColl built Late Model
DRIVER: Jason Lidster
OWNER: Jason Lidster
DRIVERS COMMENTS: "I have the same core group of guys working with me, and I am fortunate to say most of the core group of sponsors that supported me in the early 2000's, along with some new additions"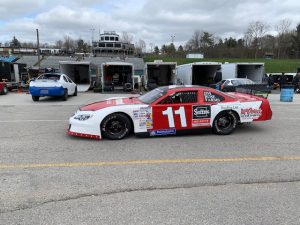 TIDBITS
            – TransAxle Super Stocks class, put on a terrific show with the APC Series race. Man, there was some close, close racing. Extremely entertaining.
            -great run by Delaware regular and only 2nd or 3rd start in APC, Gary Adriaensen in his #55. Came home with a 9th place finish!
            -anybody else notice on how many regular Delaware current runners and Delaware alumni were in the APC field.   Interesting
            -another strong run by Ray Morneau in his #03 in his 2nd APC start, until getting spun into the front stretch wall.
            -nice to see the ageless veteran driver and master car builder JR Hanley in the Delaware pits. Takes me back. Still setting up race cars
            -also, fantastic to see Shae Gemmell #3, Jake Sheridan #52, Matt Pritiko #21, Cole Powell #72 all in the top 5. All racers who have a lot of experience at this old track (and I say that affectionately)
            -spotted a few retired Delaware drivers sitting in the grandstands.  Always nice to see.
            -Jo Lawrence #78, Jamie Cox #22, Branden Verhoeven #7, Darrell Lake #77, Paighton Jacobs #5 and Marc Jacobs #96 all having tough days (former and current Delaware regulars)             
APC 3 WIDE SALUTE TO THE FANS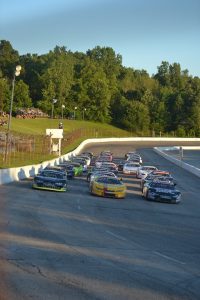 Picture supplied by Chris Culos
Saturday's 50/50 Draw at Delaware Speedway benefited ALS known as Lou Gehrig disease. Good size draw 50/50. Thanks for help with this very worthwhile charity.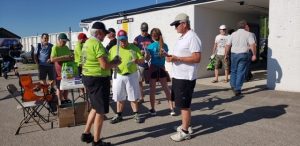 * SUMMER CONTEST…….CONTEST STARTED – VOTE NOW at the Delaware Speedway Souvenir Booth – get your ballot to enter at Spectator entrance and drop off at souvenir booth!
The London Firefighters have nothing on our Delaware Drivers. Vote for your favourite Delaware registered driver who will be on our 2020 Delaware Calendar.  During the months of July and August, every person entering the track will be given a ballot to complete and drop off at the souvenir booth.  At the end of August, the votes will be tallied and the top 12 drivers will be featured each month in our inaugural DELAWARE SPEEDWAY CALENDAR.  The calendar will be unveiled at our banquet in October.  Orders will be taken in advance to ensure you have one….and order some for Christmas gifts. Don't forget to vote….it could be the one that puts your favourite driver in the calendar!
Drivers, Chris Culos will be around to take pictures of you and your race vehicle for possibly being in the Delaware Speedway 2020 Calendar. Voting has started! 
Until next issue, Bob, Steve
Any comment, suggestions, news, topic's, welcome. Please feel free to contact me at trackside@DelawareSpeedway.com