TRACKSIDE – July 16th, 2019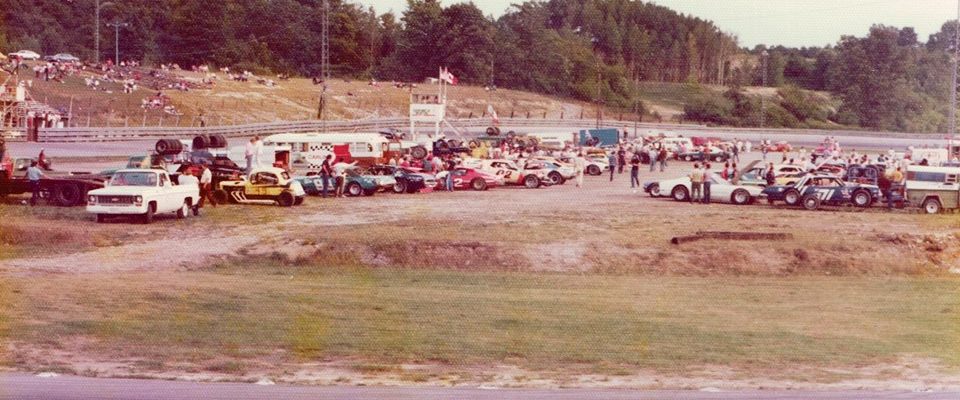 This weekend is a Big Weekend at Delaware Speedway, it's a special event, three days of MONSTER TRUCK THROWDOWN July 19th-21st inclusive! It will be a terrific show. Check the Delaware Speedway Web Page for details, times and tickets. Get your seats before they are all gone.!! Regular schedule racing will resume on Friday July 26th.
Last week's show was an interesting evening. Racing was hard fought and terrific as usual. It was also the Jukasa Canadian Short Track Nationals Qualifier for their big show on Labour Day weekend, for the Super Stocks. David McCullough in his red #39 won the 30-lap feature after a race of battles between many drivers. Another major battle in the Truck / V8 Feature. Good show from these 2 divisions. They race very hard. We are almost halfway through the season. What are your thoughts on the season so far? Other than many weather issues, the racing has been amazing. Who will be the next First-Time winner? My pick would be either Austin Gauld in the #18 Dodge Truck or Ray Morneau in the #03 Pro Late Model. But there are also a few more also knocking on the door for a win.
Full night for fans. Don't miss the show this weekend! It's exceptional entertainment for the family and friends to sit back enjoy the action of Monster Trucks in an outside venue which enhances the element of the entertainment. Enjoy the well appointed Delaware Facility with it's great seating, concessions and licenced patio potion for those of age.
Meet the Driver – Kathleen (Hosang) Green #16, TransAxle Super Stocks
HOMETOWN: St. Thomas, Ontario
OCCUPATION: Procurement Analyst
YEARS IN RACING: 18 years
IN CURRENT DIVISION: Super Stock (8 years)
MOST MEMORABLE RACING MOMENT TO DATE: My first Super Stock win in my first year in the division – July 6, 2012. I was told that this was also the first win by a female driver in Delaware Super Stock history.
GOAL FOR 2019: Race win – it's been a couple seasons without a win for us, after winning heat races in each of our first 5 seasons in Super Stock 2012-2016. We do not currently have plans to compete in 2020, so it would be really great to finish off this year with a win or two!
YOUR FAVORITE:
ICE CREAM: Vanilla
MOVIE: Any Christmas movie!
DRINK: Coffee
RACECAR:
OWNER: Mike Hosang
CHASSIS / YEAR ORIGINALLY BUILT: Year unknown – FCF chassis #052
IF NOT NEW, DO YOU KNOW CARS ORIGINAL HERITAGE: Previously owned and driven by Jay and D.J. Christie. Prior to that I believe it was owned and driven by Jesse Kennedy in CASCAR.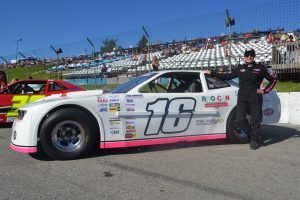 Photo from Chris Culos 
TIDBITS
– terrific run by David McCullough in the Super Stock Feature. I hope David does attend the Jukasa Short Track Nationals, being automatically qualified. I 'm sure he would do quite well.
-great to see the OSCAAR Open Wheel Modifieds back at Delaware Speedway again. A decent number of cars and some real powerhouses. A.J. Emms #14 was very fast and captured the Feature. He also showed up at Jukasa Speedway Saturday night to race against the ROC Open Wheel Modifieds. Despite being vastly underpowered, he handled himself very well and came away with a 16th place finish.
-Anthony DiBello #16 Open Wheel Modified was extremely impressive. Not sure he has ever driven the track before, but was very, very quick.
-interesting to see Joe Windis driving the #44 truck of Jacob Campbell. This was previously Joe's very successful truck and running very well under Jacob this year. Not a great night for Joe as several "incidents" with the V8 Stock of Bill Brekelmans hampered both their efforts and a lot of damage to both vehicles.  
– in the Super Stock Feature, also some "incidents" between the #21 of Rick Verberne and the #9 of Andrew Ferreira for the latter half of the feature!!
-same Bone Stock car #50, same result, with Feature Win, but different drivers. Jo Lawrence running for brother Kris Lawrence
-the #93 Super Stock of Gary Zwygers should be back in a week or 2 after repairs from a major wreck back in June. Always competitive
-really good to see two drivers get their first wins in new divisions for them. Congratulations on Heat Wins for Derek Moesker #51 Super Stock and Ryan Dyson in the #28 Truck. Excellent field of rookies this year in all divisions.
-Personal Opinion here. I like racing, because of the bumping, moving the car, minor banging on each other, etc. Just good short track racing. What I don't like is when it escalates to major damage to race cars. Come on guys and girls. You all work way to hard on these vehicles to let it get that far!
-on a sad note, former Delaware Speedway great, Jerry 'Bear" Makara is fighting prostrate cancer down in Florida. Jerry was a terror at Southwestern Ontario tracks in the 70s running on a regular basis, even though he was American based, in his yellow #42. We are all pulling for a speedy recovery Jerry.           
From earlier days at Delaware Speedway: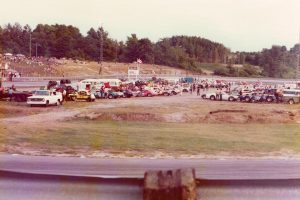 Photo from Jack Macfie           
* Live at Delaware Speedway, SUMMER CONTEST July through August – VOTE NOW – get your ballot to enter your favorite Delaware Registered driver at the Souvenir Booth and drop off at the same location. Drivers with the most votes will adorn the 2020 Delaware Calendar.
Drivers: Chris Culos will be around to take pictures of you and your race vehicle for possibly being in the Delaware Speedway 2020 Calendar. Voting has started!
Until next issue, Bob, Steve
Any comment, suggestions, news, topic's, welcome. Please feel free to contact me at trackside@DelawareSpeedway.com