Trackside Column – June 6th, 2019

Well, I want to know who in the Auto Racing world has angered Mother Nature?? Just not Delaware Speedway, but just about every track in the Great Lakes area, including Michigan, Ohio, Indiana, Illinois have lost more than 1 night due to bad weather in the 2019 Racing Season already. Hopefully, the rest of summer will be a lot nicer. It would be great if the Lucas Oil Sportsman Series would reschedule for sometime in the future. This week, Friday, June 7th, TransAxle Super Stocks, Demar Aggregates Trucks, Doxtator Property Maintenance V8 Stocks and D.A.D.S. Bone Stocks will be on the program. Should be a terrific show. All divisions are very close. Gates open at 6:00pm., see you there!
TRACKSIDE: looks at one of the many Rookies in this year's roster this week. He is a Rookie of the Year Candidate, in the Demar Aggregates Trucks Division, Austin Gauld in his #18 Dodge Truck:
"My name is Austin Gauld. I was born and raised just outside of London, Ontario in a small town called Komoka. Growing up, my dad instilled a passion for cars and automobiles within me from a very young age. When I was very young, he also raced at Delaware Speedway in stock car racing in the Enduro Series. I never personally remember seeing him race, but I do remember going to watch the races every summer. Growing up on Main St in Komoka, I would see the race cars and trailers drive by our house every Friday and many Saturdays heading to Delaware. I always dreamed and wished that one day I would have the opportunity to race at Delaware Speedway in one of the racing series.
In 2013, when I was 20, I moved out to British Columbia for a career opportunity. In the fall of 2017, I decided to move back to London Ontario. When I did, I told my dad that I would love to race at Delaware Speedway in one of the entry level series if he would help me find/build a vehicle to race. Two months after I moved back, I was hired at London City Chrysler as a sales consultant. LCC is owned by PFAFF Auto Group, who I knew had an extensive and enthusiastic racing background. I saw this as an incredible opportunity to not only work at a place that could combine my passion for cars and trucks, but also as a potential opportunity to help fulfil my dream to race at Delaware Speedway through a sponsored partnership. I started looking for a truck to purchase to run in the Truck Division and found Rob Windis selling his truck after the 2018 season. I purchased his truck after the last race of the season in 2018. After I bought the truck, I slowly learned more about the history of that truck and that it used to be Gary Adriensen's truck that he won two championship seasons with. The truck has a well-known history and I hope to live up to its reputation! Once I owned it, I made some minor body changes and got permission to change the front clip to a Dodge, look since my sponsor is a Dodge dealership but the truck is originally a Chevrolet. I'm looking forward to my first racing season and hope to win rookie of the year! See you at the track"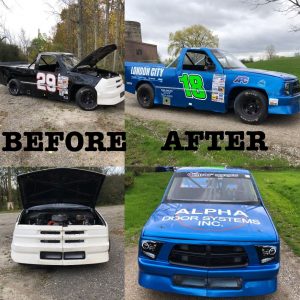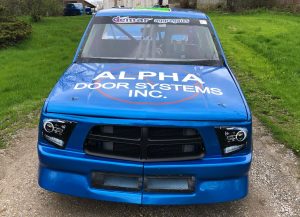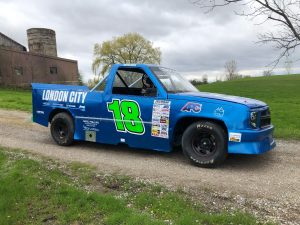 Austin Gauld, #18 Truck
MEET THE DRIVER – Trevor Collver, Transaxle Super Stock #1
HOMETOWN: Lucan, Ontario
OCCUPATION: Electrician
YEARS IN RACING: 13 Years
IN CURRENT DIVISION: Superstock
MOST MEMORABLE RACING MOMENT TO DATE: 2015 Superstock Great Canadian Winner
FAVORITE DRIVER OR HERO: Dale Earnhardt
GOAL FOR 2019: Delaware Superstock Champion
YOUR FAVORITE :
ICE CREAM: Vanilla
MOVIE: Miracle
DRINK: Vitamin water
TV SHOW: Anything sports related
MUSIC: Country
RACECAR:
OWNER: Steve Carter
CHASSIS / YEAR ORIGINALLY BUILT: 2017 McColl Racing Chassis
TIDBITS
            -hearing rumours of another Late Model coming to Delaware from the Windsor area. Nice contingent from Windsor and area this year.
            -also, interesting that Cole Powell was seen out testing his Late model a week or so ago. He would be a welcome addition to the Delaware ranks, if he decides to race
Don't forget, Saturday, June 15th, Delaware Speedway hosts ISMA (International Supermodifed Association) for 75 laps, OSCAAR Modifeds and our own Case 'N Drum Late Models Presented by MRE for 50 laps. Check the Delaware Speedway website for details and tickets.          
* SUMMER CONTEST…….starting soon!
The London Firefighters have nothing on our Delaware Drivers. Vote for your favourite Delaware registered driver who will be on our 2020 Delaware Calendar.  During the months of July and August, every person entering the track will be given a ballot to complete and drop off at the souvenir booth.  At the end of August, the votes will be tallied and the top 12 drivers will be featured each month in our inaugural DELAWARE SPEEDWAY CALENDAR.  The calendar will be unveiled at our banquet in October.  Orders will be taken in advance to ensure you have one….and order some for Christmas gifts. Don't forget to vote….it could be the one that puts your favourite driver in the calendar!
Until next issue, Bob, Steve
Any comment, suggestions, news, topic's, welcome. Please feel free to contact me at trackside@DelawareSpeedway.com