Trackside Column – June 17th, 2019

TRACKSIDE – June 17, 2019
Well, another "washout weekend". I thought we might have broken the cycle of rain on the weekends, but no such luck. Not much anybody can do. Owners tried their very best to get a decent show in on Saturday, after ISMA cancelled, but facing a 70-80% chance of rain in the forecast set the stage for the cancelation. Of course, we are all disappointed as this would have been a fantastic show. Hopefully the OSCAAR Modifieds and the Case 'N Drum Late Models Presented by MRE, will be able to reschedule their show. The ISMA Supermodifieds are scheduled back at Delaware Speedway, August 17th ,2019.
We are back in action this Friday night, June 21st, with a program of TransAxle Super Stocks, Demar Aggregate Trucks, Doxtator Property Maintenance V8 Stocks and D.A.D.S. Bone Stocks. As always, these divisions put on a wild and amazing show.  You will witness firsthand, close, tight racing in all of the divisions. If you haven't been out to Delaware Speedway this year, you need to come out. When it isn't raining, it's the best show in years!
MEET THE DRIVER – Chris Hebert #31, Case 'N Drum Late Models Presented by MRE
OCCUPATION: Master Electrician
YEARS IN RACING: 17
IN CURRENT DIVISION: Latemodel
MOST MEMORABLE RACING MOMENT TO DATE: 1st Feature win Flat Rock Speedway
FAVORITE DRIVER OR HERO: Dale Earnhardt
GOAL FOR 2019: Top 5 Finishes
YOUR FAVORITE:
ICE CREAM: Cheery cheese cake
MOVIE: Saving Private Ryan
DRINK: Whiskey and coke
TV SHOW: Don't watch much TV to busy working on Race cars
MUSIC: All
RACECAR: Latemodel
OWNER: Chris & Kim Hebert
CHASSIS / YEAR ORIGINALLY BUILT: 2013 McColl Perimeter
IF NOT NEW, DO YOU KNOW CARS ORIGINAL HERITAGE: Matt Box's Limited Latemodel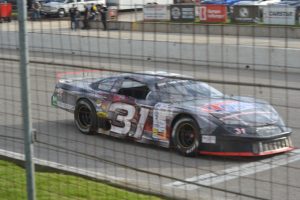 MEET THE DRIVER – Brittany Beatty #14, TransAxle Super Stock
HOMETOWN: WOODSTOCK ON
OCCUPATION: UNDERWRITER,
YEARS IN RACING: 14
IN CURRENT DIVISION:SUPER STOCK
MOST MEMORABLE RACING MOMENT TO DATE:WINNING FIRST RACE IN GO KARTING, WINNING CRKS AND KROWN JRL CHAMPIONSHIP
FAVORITE DRIVER OR HERO:TONY STEWART
GOAL FOR 2019:TO CONTINUALLY IMPROVE
YOUR FAVORITE :
ICE CREAM:OREO
MOVIE:SPLIT
DRINK:ROOT BEER
TV SHOW: BROOKLY NINE-NINE
MUSIC:COUNTRY
RACECAR:
OWNER:
CHASSIS / YEAR ORIGINALLY BUILT:
IF NOT NEW, DO YOU KNOW CARS ORIGINAL HERITAGE: DAVE LAWRENCE CHASSIS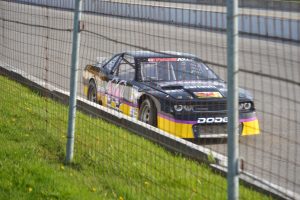 TIDBITS
            -bad wreck for Kevin Lay #5 LM, in practice last Friday night. Kevin was sore but okay. Suspects something broke. Car is a write off! Let's hope Kevin and his Windsor team will be back in the action in the near future.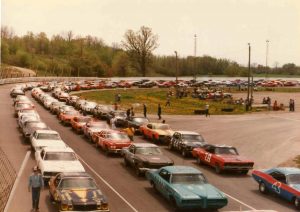 Past Delaware Enduro! Wonder how many drivers in this race are racing today?? Photographer Unknown. 
* SUMMER CONTEST…….starting soon!
The London Firefighters have nothing on our Delaware Drivers. Vote for your favourite Delaware registered driver who will be on our 2020 Delaware Calendar.  During the months of July and August, every person entering the track will be given a ballot to complete and drop off at the souvenir booth.  At the end of August, the votes will be tallied and the top 12 drivers will be featured each month in our inaugural DELAWARE SPEEDWAY CALENDAR.  The calendar will be unveiled at our banquet in October.  Orders will be taken in advance to ensure you have one….and order some for Christmas gifts. Don't forget to vote….it could be the one that puts your favourite driver in the calendar!
 Photo's of 31 and 14 provided by Chris Culos 
Until next issue, Bob, Steve
Any comment, suggestions, news, topic's, welcome. Please feel free to contact me at trackside@DelawareSpeedway.com