Trackside Column – Issue 11

The 2019 68th Season Opener at Delaware Speedway finally received Mother Natures approval to run. Great to see cars and trucks on the race track. Was an exciting night, as the "first night only single row starting for each class" was used to save equipment as the racetrack had little rubber laid down from the winter. Some great looking cars and trucks hit the track as the green flag dropped. The TransAxle Super Stocks were extremely classic short track racing. Beating and banging with amazingly close finishes. The D.A.D.S. Bone Stocks were right back into their 3 and 4 wide racing with close finishes. The Demar Aggregates Trucks and Doxtator Property Maintenance V8 Stocks ran well with last years Champions taking the Features. In these two Divisions expect some serious competition from new drivers and new cars over the 2019 season. Couple more weeks and they will be battling for the lead.
TRACKSIDE looks this week at long time and much valued competitor, Lloyd Rawlings from Windsor. He makes the long trip up from Windsor when the Case 'N Drum Oil Late Models Presented by MRE are competing. He has been a strong competitor and supporter of the Speedway for several years. Looks like there will be several additional Windsor drivers this year at Delaware, which is great news. So very excited that he will be racing again this year at Delaware Speedway. Here is as short biography from Lloyd himself.
"I live in Windsor, and I am an automotive tech here in Windsor and have been racing since 1986. Our track here in Windsor called Checker Flag Speedway closed in 1992. We started racing at Delaware the summer of 1993 in the modified division. As a side note I was the one who actually started the modified class at Delaware with Mr Novotny. We won 2 modified points championships in 1993 and 1995. We moved up to the late model division about 8 years ago. We finished third in the points last year, our best finish in that class. We are a family run race team with my brother Doug. I turned 55 on May 3, which was to be opening day but mother nature had other ideas.  Our vision is to start and finish and load the car in one piece. We have run some APC races and are looking forward to running some this summer also. I have seen many changes and new things over the last 26 years that we have been racing at Delaware. Many trips up and down the 401 at all hours of the night.
The late model class this year has had great number of new drivers which is awesome. I must be getting up there because I am racing against the kids of the fathers that I used to race against in the past. I assume that I am the oldest driver in this class lol. Our car was built by McColl Racing who supports this sport greatly.
We are hoping for a great year, as we have done quite a few updates to our hot rod and hope we can compete with the young guns. With out our great sponsors we would not be able to enjoy this great sport. Thanks go to Winmar Property Restoration, Coxon Service Rentals, Emara Laser Eye Centre, Xcentrick Autosports, Leitch Performance Engines, Refac Contractors, Mercy Ships Health Care – MacKinnon Family, Dr Joan Ross Surgeon- Sarnia Extreme Car Cleaning,
Racing heroes are my father and Nascar driver Dale Jarrett. That's telling my age lol. We are very happy just racing and enjoying this great sport"
Lloyd's PLM#69 sponsors for the 2019 season are:
Winmar Property Restoration
Coxon Service Rentals
Emara Laser Eye Centre
Xcentrick Autosports
Leitch Performance Engines
Refac Contractors
Mercy Ships Health Care – MacKinnon Family
Joan Ross – Surgeon
Sarnia Extreme Car Cleaning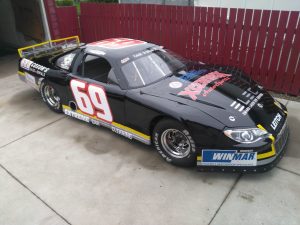 Tidbits from Opening Night, May 17th, 2019
             -interesting to see single file starts and restarts on Opening night. For all divisions on their opening night, this was implemented to save equipment, as the racetrack had little rubber laid down from the winter and just hoping everyone shakes the rust off from a long off season. Should be back to double file this week.
             -single file starts and restarts will be implemented for this Friday, May 24th for the Late Model division only, due to their first race. Looks like a great way to save equipment!
             -the quality of the Bone Stocks, in my opinion has reached an all time high. Great looking cars and fast also
             -nice to see new faces up front in all divisions
             -the battle between Rick Verbene #21 and Andrew Ferreria #9 in the first Super Stock Feature was fantastic. Unfortunatly great battles sometimes leads to contact, and Jamie Klumper #07 swooped in for the feature win. Great run Jamie!        
            -nice to see Kris Lawrence back in the Winners Circle, with his Bone Stock wins in both features. That's what determination and never give up, gets you. Excellent run by a lot of drivers. The top 10-12 were all in a group.
                        -rough to see damaged cars and mechanical troubles on first night. That makes for a long season. Hopefully we will see Paul Fothergill V8 #33 and Ryan Decloet BS#84, recover from serious issues to get back racing soon.
             -new paint schemes on several race vehicles this year look fantastic. Very professional in all case. Well done!
 This Friday night, May 24th ,2019 will be the opening night of the Case 'N Drum Oil Late Models Presented by MRE. With 24 cars registered this year, should be a very competitive show. A lot of great cars and talented drivers. Should be an absolute barn burner!!!
*On the Move…..Please note New location of the Delaware Souvenir Booth. It's relocated from under the Control Tower, to the last two windows of Concession Booths, closest to the main entrance.  Stop by and see the awesome 2019 souvenirs, including New T Shirts and much more!
Drivers or owners, please send in your pictures or any news of your 2019 race cars that we can share with the readers as we go through the 2019 Delaware Speedway season, to Bob at trackside@DelawareSpeedway.com
Until next issue, Bob, Steve
Any comment, suggestions, news, topic's, welcome. Please feel free to contact me at trackside@DelawareSpeedway.com