Trackside Column – Issue 10

Well, here we are, still waiting for Mother Nature to allow us to have racing commence at Delaware Speedway for 2019. I'm like all of you in it being hugely disappointing at the constant rains on late Thursday and Thursday nights, making the grounds soaked. Not much Management can do, but wait like the rest of us for Mother Nature to have the Sun Shine, I know they are very anxious to get this season going as racing at Delaware has tremendous potential this year. Just look at the preregistered race teams!
TRACKSIDE received a note from the Trevor Collver team in the TransAxle Super Stocks. Here are some comments from Trevor, on their upcoming 2019 season:
"With great anticipation Trevor Collver will compete in his sixth season in the Super Stock division at Delaware Speedway in 2019. Coming off a two-win season and setting the current Super Stock qualifying Track record in 2018, the up coming season has the entire organization overwhelmed with excitement.
Preparations for the opening night has the crew setting up to kick off the season with a big 50 lap season opener. Traditionally, the longer races have been right in Collver's wheel house and is looking forward to the challenge of extra laps to get things done.
With 14 Race weekends scheduled at Delaware Speedway and an appearance at the $5000 to Win Short Track Nationals at Jukasa Motor Speedway, Trevor Collver's schedule will be equally thrilling and extremely busy.
If pre-season testing is any indication, the 2019 season will be competitive with the likes of Rick Verberne, Dave McCullough, Andrew Ferreira and Jamie Klumper to deal with on a week to week basis, as they all fight for their first Super Stock Championship. This stacked field is expected to put on a show weekly at the famed half mile outside London ON"
Trevor's #1 sponsors for the 2019 season are:
• Inventory Express
• Carter Trucking
• D-K Equipment
• Hodgins Custom Service
• Mark Kennedy Trucking
• Outback Tire Shack
• G&L Automotive
• Goris Rentals
• Nu Vista Realty Ahmed Waqas
• Minuteman Press London North
• Fix Auto London Northwest
• Sissios Pizza
• Wilds Printing
• Hallmark Memorial
• Mister Transmission Exeter Road
• Novus Glass London North
• Dave Collver Auto Care
• Melrose Garage
• Collver Towing
Trevor looked very strong in Pre-Season testing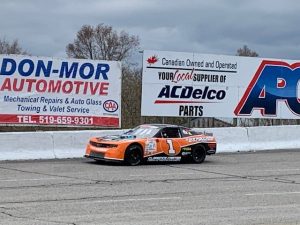 Continued Observations/Tidbits from April 27th Practice
– 7 Pro Late Models testing, running for Rookie of the Year in Case 'N Drum Oil Late Models Presented by MRE
– 2 Super Stocks testing, running for Rookie of the Year in TransAxle Super Stocks
– 2 Trucks testing, running for Rookie of the Year in Demar Aggregates Trucks
– 1 V8 Stock testing, running for Doxtator Property Maintenance V8 Stocks
– 2 Bone Stocks testing, running for Rookies in D.A.D.S. Bone Stocks
– Many more Rookie of the Year Candidates registered
Additional pictures from April 27th Practice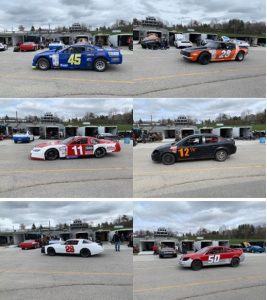 #45 Super Stock – Ryan Bright*
#28 V8 Stock – Steve Aubertin
#11 PLM – Jason Lidster*
#12 1/2 BoneStock – Joe Kicks
#29 V8 Stock – Ray Janisse Jr*
#50 Bone Stock – BT Racing
*Running for Rookie of the Year in their various Divisions
Drivers or owners, send in your pictures or any news of your 2019 race cars that we can share with the readers as we go through the 2019 Delaware Speedway season, to Bob at trackside@DelawareSpeedway.com
Until next issue, Bob, Steve
Any comment, suggestions, news, topic's, welcome. Please feel free to contact me at trackside@DelawareSpeedway.com