Trackside Column – Issue 9

It's race week at Delaware Speedway. The dust and dirt has been cleaned off the Track! Practice sessions has already happened, even though it has not been the best Spring weather. This Friday, May 3rd, Green Flag drops at 7:30pm (gates open at 6:00pm) which is the official beginning of the 2019 Season. So exciting to see race cars on the track. In this column, TRACKSIDE looks at another new Team to Delaware Speedway in the Case and Drum Oil Presented by MRE Late Models division. It is Marshal Schrenk, in his black #22. Also, we look at some pictures and a few observations from the past Saturday's practice session.
Here are some comments from Marshal, on the history and their 2019 season:
"I first got involved in racing with Rob Clarke helping work on his Super late model. In 2013 Dwayne Manning gave me my first opportunity to drive one of the Medway Highschool Bone stocks in a race at Delaware.  In 2016 my Dad and I decided to prepare our own car to race in the D.A.D.S. Bone Stocks series at Delaware Speedway. I finished the season in tenth place. For 2017 we wanted to move into a car with more freedom to setup and make adjustments so we bought a Modified.  I have been racing a part time schedule in the OSCAAR modified series for the past 2 years. We were drawn to the Case and Drum Oil Presented by MRE Late Models at Delaware because it is close to home and I have always wanted to race a late model. The car that we have purchased for this year is a former Delaware Speedway car that we have made some upgrades to. We plan on running the full season at Delaware with the late model and possibly racing the modified a couple times as well. We have two returning sponsors for this year Exacon, and London Music Hall, as well as two new sponsors Sloan Stone Design and D 'lux Auto Spa"
Marshal's #22 sponsors for the 2019 season are:
Exacon
London Music Hall
Sloan Stone Design
D 'lux Auto Spa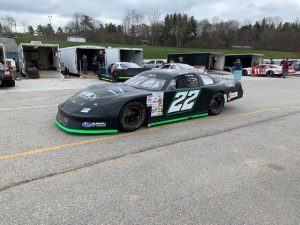 Marshal looked pretty quick in practice this past Saturday.
 Observations/Tidbits from April 27th Practice
Wondered who would have the first new GEN 6 Pro Late Model body. It was none other than Kris Lawrence in practice as #1, but will run as the #28…..slick and fast looking race car. Absolutly love it.
12 Pro Late models at practice. Big car counts this year
New drivers in all divisions
Jeremy Taggart in the blue and white #4 Pro Late model looked very quick through the corners
Was fun watching the Pro Late models of Gary Adriaensen #55 and Jaden Chapman #13 running nose to tail for several laps
Trevor Collver running some pretty stout laps in his #1 Super Stock
Rookies in all divisions looking very good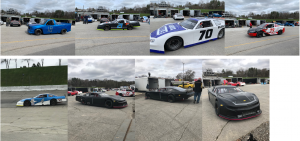 #18 Truck – Austin Gauld*
#21 PLM – Terry Jacques*
#70 PLM – Piper Adams*
#73 BoneStock – Jordan Morris
#4 PLM Jeremy Taggart*
#1 PLM Kris Lawrence* (will run as #28)
*Running for Rookie of the Year in their various Divisions
Drivers or owners, send in your pictures or any news of your 2019 race cars that we can share with the readers as we go through the 2019 Delaware Speedway season, to Bob at trackside@DelawareSpeedway.com
Looking forward to including them in future publishing of the columns.
Until next issue,   Bob,   Steve
Any comment, suggestions, news, topic's, welcome. Please feel free to contact me at trackside@DelawareSpeedway.com