Trackside Column – Issue 5

Into March we go! In a couple of weeks, there will be the London Speed & Custom Car Show at the Western Fairgrounds, on March 23 & 24. From what I hear, there will be more than a few Delaware Race Cars there. This issue we look at 2 drivers that are new to the ​RP Oil & Case 'N Drum Oil​ Presented by MRE Late Models​, ​but both have very famous last names from over the years at Delaware Speedway. They are ​Matt Robblee​ and ​Ray Morneau​.
Here's a note from ​Matt Robblee​,
"Though racing has always been a part of my life, I didn't get my start until 12 years old (which seems to be very late these days).
My brother and I shared driving duties of a Dirt Micro-Sprint, which eventually lead itself to the JR Racing League, and the Delaware Truck series.
My biggest opportunity in racing came when Gerry Findlay, who owned my dad's cars from 1996 until his last race in 2012, gave me the opportunity to race a Sportsman car in what is now the Lucas Oil Sportsman Cup (2007-2012) , and eventually Late Models at Delaware Speedway (2008-2012). As Gerry's unbelievably successful career was coming to a close, Dad and I decided to build a Super Stock, as the then-new rules package looked like a fun opportunity to race on our own without the struggles of running a traveling series.
The decision to run a Late Model was really a matter of good luck and circumstances…we purchased the car from Shae and Artie Gemmell. They had a second car that had not been raced in sometime and they weren't too happy seeing it just sit idle and decided to post it for sale.
(The car itself has a fairly interesting history, having been driven by some of my favourite drivers – Jamie Ramsay, David Reutimann, Jamie Cox and Shae Gemmell.)
In the meantime, Scott and Derek with STS Roofing had been talking over the past little while about moving up into a Super Stock. A deal was struck, and we both get to move up a division.
While we're always looking for new partnerships, I'm very happy to say that there are some familiar faces who have stuck with me in the move back into a LM Some of our partners have been with us for many seasons (both successful, and unsuccessful seasons) and their efforts can't be praised enough. Big or small, any business who supports motorsports at the local level deserves our attention – and the efforts of yourself and the speedway to do so have been fantastic.
The car is nearly complete, I did a half-wrap myself for the first time and I'm really pleased with how it's turned out. Were signed up to participate in the Speed & Custom show at the Western Fair Agriplex, and I'm looking forward to showing off the new car and checking out a lot of good race cars.
My only set-in-stone plans for 2019 so far is to run Delaware full time. Obviously, it would be great to run a few APC races or other premier Late Model races…but between the added expenses involved with getting a LM program together and the fact that I haven't raced a LM in several years, we thought it best to focus on one thing at a time.
I think there are two big factors in the sudden interest in the Delaware Late Models:
1.​ ​The changes to the Delaware rules – I honestly believe that race fans want to see real LM racing. As good as the rules were before, I think the impression might have been that the LM cars were a bit diluted, and this might have left teams thinking they had to decide between Delaware and the APC Series.
2. ​Cooperation between The APC Series and the local tracks – APC announced an incentive program with local race tracks in Ontario. The APC is fantastic, arguably one of the best series in the country, but their series is rather short – 9 races. Having incentive to participate in a home-track series will not only help out car counts at the speedways, but should help increase the level of competition in Late Models across the board.
The racing community in Ontario may be exciting and vibrant, but unfortunately it remains rather small. Seeing tracks, promotors, series, racers and fans alike come together and make strides to get everyone on the same page, with an interest in strong yet fair competition has been great to see recently and I'm certainly looking forward to being involved in it"
Matts's sponsors for the 2019 season are: V​IP Autopro, STS Roofing, R​ay Cullen Chevrolet, Buick and GMC, K​ettlea Farms, A​ce Autoparts, Federated Insurance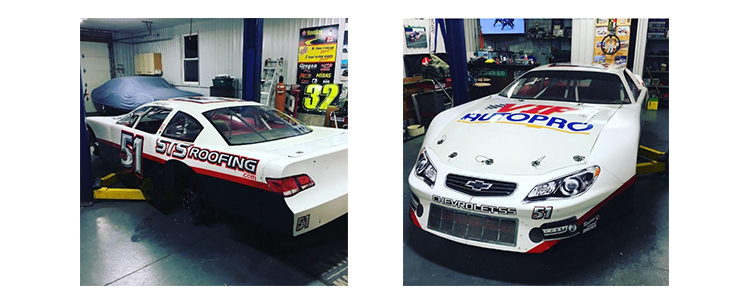 Got this note recently from ​Ray Morneau​,
"As a kid I always had pictures of Jack Monaghan's JAAR #03 hung on my wall in my bedroom and wore a Matt Pritiko shirt I won at Delaware Speedway, endlessly. It's really neat I get to carry JAAR on a Late Model back at Delaware Speedway in Matt Pritiko's old car!
This is probably the most excited I've ever been to get the season back going. Looking at the list of registered drivers for this year it is going to be a tough but great year. I look forward to running side by side with names like Gary Adriaensen, Kris Lawrence, Matt Robblee and Lloyd Rawlings.
We are also really looking forward to bringing our car to the Speed and Custom Car show on March 23rd and 24th and hope to see everybody checking out the show. Have to thank the crew for getting this car ready to go this season and would like to say thanks to all of our sponsors Hallmark Memorial, J-AAR Excavating, Windsor Electric Bicycles, Rivard Snowplowing, Highland Tools, Double R Reworks, Sun Parlour Trailers, Morneau Family Law Solutions and George Newman and Dan Cabral Racing Promotions. People can follow along on Facebook and Instagram at "Morneau Racing Team"​
Ray's sponsors for the 2019 season are: J-AAR Excavating, Windsor Electric Bicycles, Rivard Snowplowing, Double R Reworks, Sun Parlour Trailers​, Morneau Family Law Solutions George Newman, Dan Cabral Racing Promotions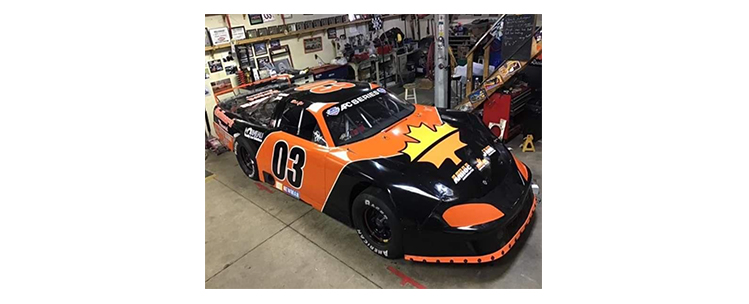 These are just two of drivers to watch in 2019, in the​ R​ P Oil & Case 'N Drum Oil​ Presented by MRE Late Model Division ​this year​. ​I think we all know how good both racers are!
Tidbits:
In follow up to our article previously in TRACKSIDE, I noticed this announcement from ​Jaden Chapman​ in the Late Model #13:
"We are very excited to announce our new partnership with Sarnia's premier micro brewery "​Refined Fool Brewing Co​". They are our primary sponsor for this upcoming 2019 season. Not only that but, you can now enjoy their brand of brew while watching the races at the Delaware Speedway."
Remember fans to support all the race car sponsors as that's what keeps racing going. A Big Delaware Welcome to all the sponsors in 2019.
Any new sponsors looking for opportunities, please contact the individual teams or Delaware Speedway. You can also contact this column and I will more than happy to pass along your request.
Race fans out there, please support your area Short Tracks, whether it's Asphalt or Dirt. It's the best racing anywhere. No mention of "aero push" at Short Tracks. But there is a bumper! Get out there and support your favorite track. Let's pack Delaware Speedway every week!
Drivers or owners, send in your pictures or any news of your 2019 race cars that we can share with the readers as we look to ramp up for the 2019 exciting and action packed season, in whatever state they are in to Bob at ​trackside@DelawareSpeedway.com
Looking forward to including them in future publishing of the column​s.
That's it for this week, Bob, Steve
Any comment, suggestions, news, topic's, welcome. Please feel free to contact me at
trackside@DelawareSpeedway.com