Trackside Column – Issue 4

Almost through February!!   Hope March and April go as quickly as January / February did.  Delaware's driver roster for the 2019 season is building nicely.  Come on drivers, keep your car registrations coming!  With all the excitement seen within the driver roster, builds excitement and new and existing fan interest!!  This issue we look at 2 up and coming drivers in the RP Oil & Case 'N Drum Oil Presented by MRE Late Models,  Kevin Lay from Windsor and Jaden Chapman from Sarnia.
KEVIN LAY
"I started racing in the Bone Stock class about 7 years ago now I believe. I always played racing video games as a kid, so it was always an interest of mine. One day I started researching about some tracks nearby and came across Delaware Speedway. Took a trip up there and caught the last race of the year. At this moment I decided I wanted to build a car. This was a big task because at this point, I changed oil a couple times and maybe sparkplugs once. We managed to get our car built and it was the slowest car I've ever owned. We blew our motor on the second race and was smoked from behind.  Shown here: https://www.youtube.com/watch?v=v9ZUF9A7cPo 
After this we built a VW and came back strong running upfront for the rest of the year. I spent 3 years in Bone Stocks before switching to Trucks. We had 1 year in Trucks and then over the winter we built a truck from scratch and we were a rocket. We snagged our first win ever. During this year we founded some great sponsorship with Global Vehicle Systems, JEC, & Copperhead which leads us to be able to move up into the late model series."
"We ended our last year backwards into the wall. This winter, started by ripping everything off the car and cutting the whole back clip off. Last year we were fast but constantly plagued by stupid little problems. This year we talked about spending money on stuff to make the car more reliable and focus less on speed. We went through and replaced every nut and bolt, we replaced pedals, master cylinders, painted the frame, remade the interior tin. Every part we reused was stripped, prepped and painted. Every single part was taken a part inspected. We are also making an effort as a team to be more organized. We've reorganized our toolbox and trailer. Also made sure we have proper equipment to work on the car. This isn't always easy as we are still a small father son racing team, however this is slowly changing. We are planning on running full time this year at Delaware. Depending on how the season goes and our funding is we may try to run a couple APC races."
Kevin's sponsors for the 2019 season are: JEC Distributors Inc, Copperhead, Global Vehicle Systems, Murr Elektronik, Thames Centre Service Dogs, Radovic Automotive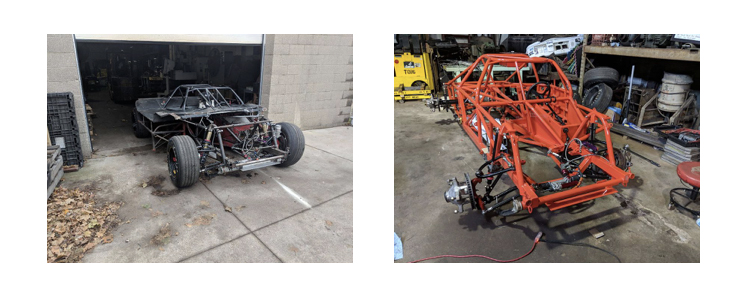 JADEN CHAPMAN
"We have made some changes over the winter so far. We stripped the car down to the bare chassis. We are cleaning it up and changing our setup. With the caliber of drivers that are coming into the late model division, we have had to take a big swing with our setup in order to keep up with the competition.  
We have had a new primary sponsor come on board: Technical Heat Treatment! We have had a couple newer sponsors join our team this year: Big Daddy's BBQ and Ainsworth Inc. We also would like to mention our sponsors returning this year: Ackwood Auto Parts, Central Machine & Marine Inc., St. Germain Autobody, Crystal Clear Janitorial and Fastenal.  
My father, Scott Chapman, raced when I was young so I grew up around racing. My father also owned his own shop so I was always around cars. I started saving any money I could so that I could buy my first race car. At the age of 14, I finally bought a 1986 Monte Carlo off of Dave Webster. We painted it like the "Dukes of Hazzard" and that's where it all started. I began racing Enduro, then we moved up into the V8 stock division with our Camaro with our flamed scheme. Then we moved up to Super stock which is when we change our number and scheme, then finally to the Late Model division at the age of 24. Quite the progression over the past 10 years. 
Yes, we do plan to run a full season at Delaware Speedway in the Late Model division. Our plans for this upcoming season are to mainly run full time at Delaware. I may run a couple Bone Stock races at Delaware and possibly Grand Bend Speedway. I would really like to run the Jukasa race and possibly an APC race but we will only do that if we have the funding available. We will see how our season goes before we decide on those special races.
I can't wait to race against everyone that has registered and see who else may join us in the fierce competition in the RP Oil & Case 'N Drum Oil Presented by MRE Late Models.
We do everything we can to support Delaware and get fans in the stands. I am sure Russ Urlin can attest to that. We had our car at the Monster Jam show last year as well as a McDonalds grand opening for Delaware! 
We also have our car in 2 local car shows in Sarnia (our hometown) and always have the car in the Speed and Custom Car Show at the Western Fairgrounds with the track".  
Jaden's sponsors for the 2019 season are: Technical Heat Treatment (new Primary Sponsor for 2019), Ackwood Auto Parts, Central Machine & Marine Inc., St.Germain Auto Body, Crystal Clear Janitorial, Fastenal, Big Fish Steak and Lounge, Big Daddy's Barbecue (new for 2019), Ainsworth Inc. (new for 2019)

These are just two of drivers to watch in 2019, in the RP Oil & Case 'N Drum Oil Presented by MRE Late Model Division this year.  Good teams and with a few breaks they will be right up front I'm sure.  Check out the 2019 roster in this division with 21 cars as of this writing.  
Remember fans to support all the race car sponsors as that's what keeps racing going.  A Big Delaware Welcome to all the sponsors in 2019.  
Any new sponsors looking for opportunities, please contact the individual teams or Delaware Speedway.  You can also contact this column and I will more than happy to pass along your request.
Drivers or owners, send in your pictures or any news of your 2019 race cars that we can share with the readers as we look to ramp up for the 2019 exciting and action packed season, in whatever state they are in to Bob at trackside@DelawareSpeedway.com
Looking forward to including them in future publishing of the columns.
That's it for this week,  Bob
Any comment, suggestions, news, topic's, welcome. Please feel free to contact me at trackside@DelawareSpeedway.com