Trackside Column – Issue 3

Well, its edition # 3 of TRACKSIDE!  2019 Racing has begun in earnest.  Maybe not up here, in the snow, rain and ice, but at least down south.  We get to see some live "racing" from Daytona and can follow the various short track racing notes from different venues. I'm sure we all know people that are down in Florida taking in races.  I for one am a little envious of them!  Soon local car shows will be showing off the 2019 Race Cars and then, how far away can practice and racing begin?  That is correct just around the corner!
I am excited to share some pictures received from the driver of the Super Stock #21 Dodge, Rick Verberne.   Rick has a new major sponsor in SPARKPOWER this year, and the car looks fantastic along with terrific support from his continuing sponsors.  Such a different looking race car than Ricks previous ones. I'm sure Rick is looking to beat his 6th place point standings, in his Super Stock Rookie year. I believe he will be one of the main contenders for the 2019 Transaxle Super Stock championship.  Stay tuned.
His sponsors for the 2019 season are
Spark Power, Tiltran, Talltrees, Lizco, Wight Motorsports Inc, CARQUEST, McKenzie Auto Parts, RA Watters Graphics, Elgin Chrysler Dodge Jeep Ram, Oxford Pallet, Castrol, Oxford Civil Group, Panton Paint & Collision, Blake Painting, Dennis & Wanda Walter, Canadian Linen, Loctite, Arc-1 Welding Supplies
TRACSKSIDE, also received a note from last years 2018 Super Stock Champion, Gary Adriaensen, in response to my questionnaire. Gary is moving up to the Case 'N Drum Oil Late Models Presented by MRE.  
"My 2019 plans are to race in the Delaware Pro Late Model class full time and compete for the rookie of the year and the Championship. We also intend to run a couple APC races at Delaware and Jukasa. As well as try to make the show for the Canadian Short Track Nationals at Jukasa.  
The car I purchased is an MRE chassis that is a couple years old. It was originally owned by Jason Parker. Jesse Kennedy drove it at the Canadian Short Track Nationals and Cayden Lapcevich drove it in a couple races during the playoffs. It's a great piece and I look forward to seeing what I can do with it. This season will be my 20th season running at Delaware Speedway and I couldn't be more excited to race with the best PLM drivers in Ontario."
His sponsors for the 2019 season are: 
Dowler-Karn Fuels, Bumper to Bumper, London Drive Systems, Guild Electric, Concorde Distributing, Doxtator Property Maintenance, Speedpro Imaging, Epic Racewear, Cabral Racing Promotions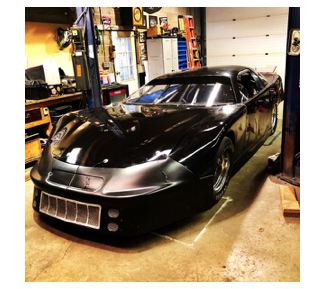 I have seen this car run many times. It is a very fast car!  Is there any doubt, based on previous experience, it won't take long for Gary to be running with leaders in the Late model division in 2019?  Also, don't be surprised to see new colours for Gary, on this new car and new division this year. Look for the debut of the car at the Delaware Speedway booth, at London Speed and Custom Car show in March.
That's it for this week,   Bob
Drivers or owners, send in your pictures or any news of your 2019 race cars that we can share with the readers as we look to ramp up for the 2019 exciting and action packed season, in whatever state they are in to Bob at trackside@DelawareSpeedway.com
Looking forward to including them in future publishing of the columns.